XSR900 tall rider mods / tank comfort
Hi everyone - I'm new on this forum and seeking advice/experience from tall XSR900 owners regarding the tank cover and long legs.
I'm a current owner of a R1200R and plan to swap for an XSR900. I've only sat on the XSR900 at the dealer - while feeling generally comfortable at 6'3" and 33" inseam I found my knees were uncomfortably resting on the edge of the scoop on the tank cover. E.g.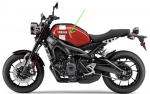 For reference, I sat on an XSR700 and it fit wonderfully. Much prefer buying the 900 though.
Anybody else deal with this and/or find a solution? Can the 700 tank cover be installed on a 900? Is there another mod that would bring the seat position back to make more room for knees/legs? I've been lusting after this bike but concerned the standard fit just won't work :/
Thanks!
Jared