So I know Spottedfrog did this already and posted a thread not too long ago, but I figured I could put up so more info that could help someone out. Total cost was right around $225 (before oil and filter, but you're gonna do that anyways).
Quick review - it's fun. Banging down a few gears and dumping the clutch won't lock up the rear. I've gotten pretty aggressive with it and the worst that will happen is the rear will slide around slightly, but that only happens when going down from like 4th to 1st. Engine braking is reduced but not eliminated, as expected. Force required to pull clutch lever is reduced, which is nice.
Edit: partshark has a package together for this now at $215:
XSR900 Slipper Clutch for FZ-09 : Part Shark
Parts list is as follows:
3 x 1TD-16178-00-00 Absorber
1 x 1TD-16324-00-00 Clutch Plate
1 x 1TD-16383-00-00 Cushion Spring
1 x 1TD-16384-00-00 Seat Plate
3 x 2CR-16337-00-00 Spring Screw
3 x B90-16173-00-00 Compression Spring
3 x B90-16331-00-00 Friction Plate
1 x B90-16350-00-00 Pressure Plate Assembly
1 x B90-16352-00-00 Pressure Plate 2
1 x B90-16371-00-00 Clutch Boss
1 x 90179-20010-00 Boss Nut
That is parts: 3, 5, 7, 8, 9, 10, 11, 12, 13, 16, 19.
Parts fiche:
2016 Yamaha XSR900 (XSR900GCS) Clutch | Part Shark
Partshark was the cheapest I could find, was fast and has good customer service. They may even give you a $5 off shipping if you call and ask nicely.
Standard tools required - allen wrenches, socket set, 12mm spanner, rubber mallet, torque wrench, 30mm socket, calipers (to measure clutch stack).
Odd Tools - Boss Clutch Holder:
https://www.amazon.com/Motion-Pro-08-0008-Clutch-Holding/dp/B000HS4NA8
Shop Manual - search around this thread, several links work:
http://www.fz09.org/forum/69-xsr900-general-discussion/12586-haven-t-seen-shop-manual-xsr-yet-2.html
Don't need to drain the oil.
Clutch Cover came off with ease. First undo the clutch cable, pretty straight forward (need a 12mm spanner). Gasket came with the cover.
Here is the stocker. Back out the 6 spring bolts. And pull out all of the friction and clutch plates.
Here is the clutch tool engaged on the boss. 30mm socket on the boss nut. I put some towels under the clutch tool and used the foot peg to jam it. I had trouble getting this nut off. First you have to "unstake" to nut. It is crimped on 2 sides around the shaft. I used a tiny eye glasses screwdriver and a hammer to do this. This kills the screwdriver. You really have to bash the hell out of the ratchet with a mallet. Harder than you've ever hit anything to loosen a bolt. Really thought I was gonna break something in the transmission.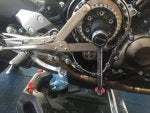 But at last it gave way, and discovered why it was so damn hard - red locktite.
And here is the bare clutch basket. After this install is pretty straight forward as far as getting all the clutch pieces back together. Don't forget the large flat washer and spring washer. One of the new friction plates goes in the very back (closest in to the bike), then alternate steel and friction plate that came out of the stocker. the last 3 items are new friction plate, new steel, new friction plate.