The following procedure describes how I waterproofed a Garmin Nuvi 2555LM. I picked up one cheap on Amazon. The thing I like about this unit is that I get Lifetime Map Updates, have a Route Planner, and I can use Garmin Base Camp to plan trips on my PC. My whole reason for doing this was because I was on a trip with a buddy that had a Zumo croak in rainy weather. I was using a waterproof case that worked fairly well bt still allowed a bunch of moisture in, and messed with my touch screen.
I watched a couple of YouTube videos to achieve my goal. I wanted to remove the speaker and silicone a piece of Neoprene in it's place. To do this I watched a video on replacing the battery because I did not want to damage it opening the unit up.
Replace Battery on a Nuvi 2555
Next I saw a video about using RTV Clear Silicone to seal the screen, which seems to be the issue that kills the units. I secured a screen protector, and then siliconed the edges as per the video.
Waterproof Nuvi Screen:
Next, I sealed off the on/off button, used RTV to block off the microphone hole on the face, and sealed off the MicroSD port with 3m door edge guard tape.
3M 84901 ScotchgardTM Paint Protection Film, Door Edge Guard, .4 in x 10 yds : Amazon.com : Automotive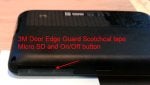 I purchased the following RAM Cradle and used 1/32" rubber sheeting and Neoprene to seal off the speaker and USB ports:
http://www.rammount.com/CatalogResults/PartDetails/tabid/63/partid/082065077045072079076045071065053050085/Default.aspx
My cable to my TAPP lite USB port is sealed and I use Dielectric Grease on the cable connection.