The following pictures are intended to help FZ-09 owners with installation of TripageLED's headlight bulb upgrade.
*****
Note: The first twelve images formerly appearing in this post now begin at post #25 of this thread
https://www.fz09.org/forum/32-yamah...headlight-bulb-installation-3.html#post844516
*****
Once these 12 steps are complete...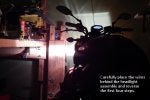 For a first-timer like me, the process seemed somewhat daunting in the first few moments. Once the headlight assembly was open, any lingering doubts faded. The process became clear and logical. Now I wouldn't hesitate to perform this headlight bulb replacement. The process is clear, and the LED headlight is superb!