Discussion Starter
·
#1
·
Hey guys, a few newbie questions:
- I have been told to keep the bike on the stand so that it's straight up and down during storage. This seems a little precarious with only the rear-wheel pit-bull. The bike is safe in underground secured parking, and there's a brake disc lock on it. Thoughts?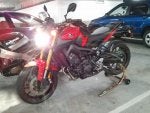 - I'm going to be riding again in February if not late January as the weather clears up here quickly (Vancouver). Should I bother putting in fuel stabilizer / putting the battery on a trickle charger?
- I'm low on fuel, should I top it up before storing her for a few months? Does it matter?
Thanks!!