Hey all,
Prior to owning my rapid red FZ-09 I always kept very stock bike, so I was shocked when I realized just how many mods I had done to my bike! This forum has brought together a wonderful group of people who have dedicated an amazing amount of time to sharing their knowledge about the FZ-09, and their passion is infectious in the best possible way.
Here is a list of all the mods that I have done to my bike, citations included.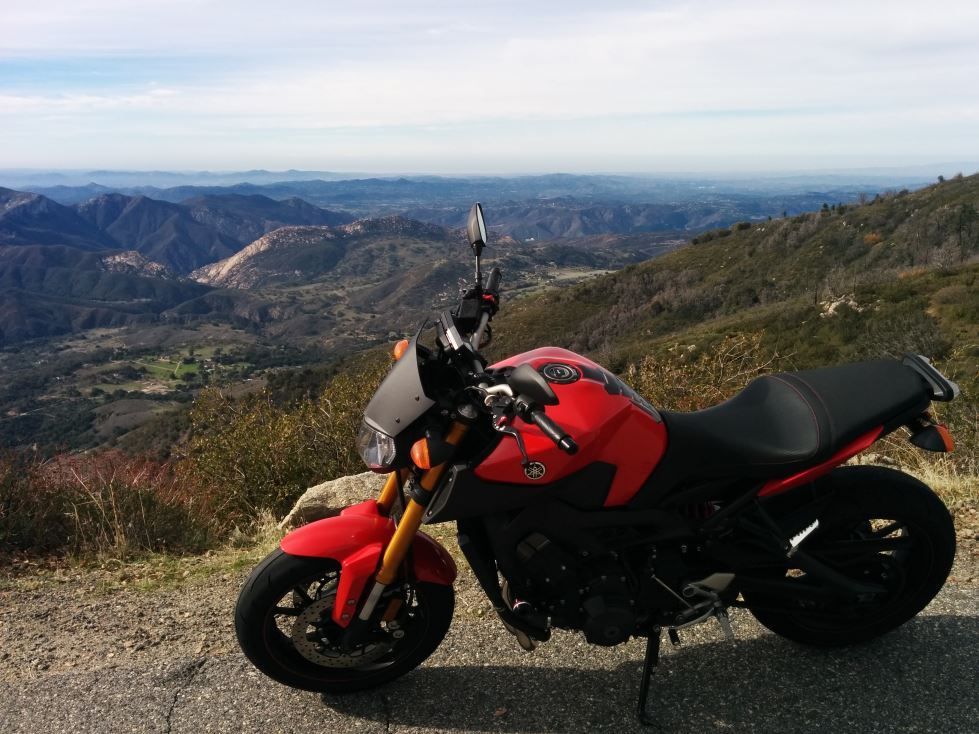 Flashed by Vcyclenut
I originally had the Flash Tune flash, but after reading all of the glowing reviews of Vcyclenut I decided that I had to go for the
upgrade
...and it was worth it! The Vcyclenut flash is the first mod that I would describe as being truly "transformative". A Mode is scary fun, STD mode is smoother than I ever thought possible, and B Mode is B Mode. It is hands down the best $80 you will ever spend on your bike. Period.
Fizzer Kit (Home Made)
Does your engine
have a tick
? Fizzer's home made cam chain tensioner fix will take care of that problem for only a few bucks. What to do it yourself? Here are the McMaster-Carr part numbers:
92605A136 - Nonmarring Flat Point Set Screw, 18-8 Stainless Steel, M6 Size, 25MM Length, 1MM Pitch
91005A033 - Metric Black-Oxide Steel Flange Hex Nug, M6 Screw Size, 1MM Pitch, 10MM W, 8MM Overall Height
CA Evap Canister Removed
If you have a California FZ-09 and you have an
occasional hard start and stalling
problem, especially when you leave your bike out in the sun, then you really need to set aside one morning to do this minor surgery on your bike. It only takes an hour and $5 in parts from AutoZone, but your bike will never have another hard start.
Seat Concepts Seat Cover
Seat Concepts seats look fantastic, feel better than the stock, and cost only a fraction of a complete seat from other venders. For more details check out my complete review in the links below!
2006 ZX6R Rear Shock
I love my FZ-09, but it was the first bike I have ever owned where I noticed just how bad the stock suspension was. There are now many great options available to fix this issue, but if you are on a budget then there is nothing cheaper quicker or easier than grabbing a used ZX6R shock off ebay and throwing it on your bike.
OES Frame Sliders and Swingarm Spools
Safety first, frame sliders are a must for evey bike! The OES sliders were affordable, looked good, and easy to install.
Helmet Lock
You never realize how much you need a helmet lock until you don't have one.
Tripage LED Headlight
The Tripage LED headlight is probably twice a bright as the stock FZ-09 headlight, and is a strongly recommended upgrade for anyone who might ever get cought riding home at night...so, you know, all of us!
Tripage LED Taillight STD Upgrade
Safety first, I want people to notice when I am hitting my breaks! The Tripage upgraded taillight adds LEDs, a break light modulator, and integrated turn signals that can still work with the OEM blinkers. Note, you need to
buy splitters
to make both sets of blinkers work together!
Graves Motorsports Fender Eliminator
Many people seem to prefer other brands, some people have had a
bad experience
with Graves, but I am very pleased with mine. I chose this fender eliminator because it matinained the stock blinkers, it was reasonably priced, and there was a how to install video on YouTube.
Mad Hornet Adjustable Levers
I really like the feel and look of the Mad Hornets levers, and the price was far more reasonable than other after market levers. At first I bought the
shorty levers
, and I liked them so much I decided to upgrade to the
adjustable length
version. I should mention that the adjustable length set did not fit as well as well the shortys, and they did require some filing with a dremel.
Fabbri Gen-X Sport Screen
The Mad Max of windscreens; I love the way it looks, but your mileage may vary.
Horn Relocation
This free mod requires no extra parts, and definitely helps clean up the front end of your bike. I didn't really notice a change of volume from the horn. This is a prerequisite if you want to install a
cheap stabilizer
, which I have not done yet.
Michelin Pilot Road 4 Tires
Those stock tires only lasted me a few thousand miles, and nothing feels nicer than a fresh set of tires on your bike.
Ride safe,
Tom