Discussion Starter
·
#1
·
hei guys, as promised my seat is at the workshop. the "artist" has removed 3 layers of foam (3 cms less) see pics below. Also he has realized that in the plastic base, there is a sort of a cube shape which is the bloody risponsable of the limited confort of the seat, if removed it, we will gain 1 cms extra also. Great PRO!!!! Will change cover too.
3 layers of foam removed. 3 cms lowered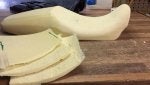 Removing plastic cube shape thing from seat base,which made it unconfortable. another cm gained.
end job, it will look like this one:
so, altogether will allow me, to have a much better seat with gel pad, better looking, and no need to manipulate bike geometry by touching suspension links
Cheers