I posted an initial introductory thread back in October/November sometime when I was debating between the Triumph Street Triple R, KTM Duke 690, and Yamaha FZ-09. Now that I've actually went and bought my new Blazing Orange FZ-09, I figured I'd make a new thread rather than update the old one.
Hi! My name is Sean, I'm 33, and I live in Pittsburgh, PA. I started riding a motorcycle back in 2008, shortly before my 28th birthday. My first bike was a 2000 Suzuki SV650. At the time, I was obese at 335-340 lbs. I struggled with many of the basic drills as a result of a combination of my weight and the fact that I have a neurological dysfunction which impedes basic motor control, to a degree (it is a component of autism spectrum disorders found in people with hypersensitivity/hyperactive senses). After putting the bike away for winter at the end of 2008, I made a decision that if I wanted to do this, I had to lose weight. This picture was taken of me and my first bike on the 4th of July in 2009. At the time it was taken, I had already lost about 15-20 lbs.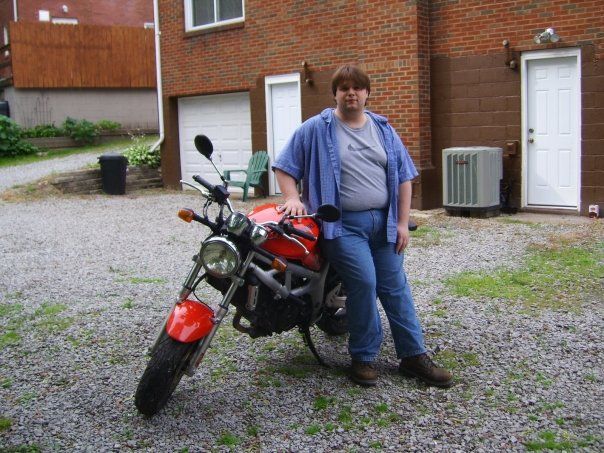 I loved a lot of things about the bike, but even after my weight loss (a total of 135 lbs down, getting down to an even 200), I found the suspension to be woefully inadequate for anything other than commuting to and from work on it, and even that was iffy. I sold it in May of 2013 because I just wasn't willing to invest in the mods needed to bring the suspension up to spec. What I got to replace it was this thing:
A 2006 ZX-6R Special Edition. I eventually redid the plastics in all black because those decals looked cheap and the bike had scratches after a low speed drop. Buying this bike, to be honest, was a mistake. The powerband was anything but confidence inspiring (the way it had absolutely NO torque off the line and didn't start to make usable power until about 6k RPM scared the hell out of me) and the way my motor control issues required special care in my approach to riding was further complicated by the increased emphasis on "body english" required by supersport bikes in cornering. Despite this, I learned a lot about riding thanks to it, and I did my first track day aboard it, which was awesome. However, I don't think I could ever use a bike like that as anything but a dedicated track bike, so off it went.
I knew I needed to replace it with something that allowed me to ride in the way that, after spending 5 years aboard an SV650, had become second nature to me, but the motor head in me wanted MOAR POWER, and I didn't want to worry so much about having to inevitably upgrade suspension. I debated between the FZ-09, the Triumph Street Triple R, and the KTM Duke 690. What ended up winning me over to the FZ wasn't anything about the bike itself, but rather the excellent customer service of my local Yamaha dealership (Bohn Cycle Center in Pittsburgh, PA, a small family-owned dealership that's been in business since the 70s). Compared to the KTM and Triumph dealerships, they treated me like royalty, they took me at my word for everything, they sweetened the deal by throwing in a free premium helmet AFTER offering me a sweet OTD price, and they respected the fact that I had already done my research and was very knowledgeable about the bikes I was looking at. I put a deposit down on the FZ back in late November, and I picked it up from the dealer on Monday, Jan 13, 2014 on a day where the winter weather had subsided enough to actually ride the thing.
I only had the opportunity to log 18 miles before I had to garage it, but that 18 miles gave me enough input about the bike to let me know it was what I was looking for.
-It promotes bad behavior. I stopped at a Pizza Hut on the way home from the dealer to grab a bite to eat, and curb hopped my way out of the parking lot for no reason other than "just because."
-The jerky throttle IS as bad (to me, anyway) as some people say, but it is nothing I can't adapt to in the long run. I'd rather just send the ECU off to Stoltec though and be done with it.
-The motor is AWESOME and ridiculously powerful, but despite that, the bike is very forgiving. I had two near-crashes at low speed on the way home from the dealer (due to the new tires & brakes) which I was able to easily correct for and keep the bike from going down. On my Ninja I would have eaten pavement.
-The bike is EXTREMELY nimble and easy to maneuver through urban traffic.
-The suspension will require upgrades eventually, but unlike the SV650 I wouldn't quite say they're "mandatory" but rather "strongly recommended" and even then only for people who are intent on pushing the bike in corners. In city riding, the stock suspension, when adjusted, is adequate for my 200 lbs.
-Unlike on the Ninja, controlling it in cornering (even fairly spirited) doesn't require me to position my body in ways that are difficult due to my motor control problems.
Overall I am glad I bought the bike. It is my first NEW vehicle and I am confident that after a few light upgrades (suspension, ECU flash, windscreen, frame sliders) it will be everything I am looking for in a motorcycle. I am already more confident on it than I ever was on the Ninja, and I can confidently ride a good while on it before I reach a level of comfort where I feel suspension upgrades will become a necessity (although I'm gonna do them ASAP just to because).