Discussion Starter
·
#1
·
I recently "laid down" the bike learning me some Gymkhana. Went down on the left side going ~5mph trying full lock turns. I have OES frame sliders on front mounts, forks and rear spools. By laid down I mean just that, it was more of a controlled fall than a drop of the bike. No biggie. Pick it up and behold!
Stator covered got scratched and in the photo has been colored with black sharpie. Kinda irked, that being the first damage to the bike since I bought it. But I moved on. Can replace stator cover fairly easy with some time and $80, but what if I drop it again? Still gotta work on that Gymkhana. I laid the FZ on its left side to assess.
You can see a few things in these photos. Mainly that the bike, with the OES sliders on it, rests on the stator cover. The other pieces in contact are front OES slider, left foot peg, kickstand and left bar end. The bars are turned to the left in these photos as it seems to me to be the most likely way they will end up in a slow simple fall. Turned right the left bar end still contacts the ground and supports the bike. The plastics, turn signals, tank and stock mirrors are all pretty safe in this scenario. None of them touch. You can also tell from the last photo what happens to the right side if the bike laid down on that side. I did lay the bike down on the right side also for assessing but did not bother with photos because the OES slider, foot peg, rear spool and right bar end keep everything else off the ground. My passenger pegs are removed.
What does this all mean? To me it means I need to protect the left side. I don't mind a scratch or 2 but next time I could split the case cover. I wanted something that could handle a fall or even 3 if that happens. I have found a few options out there that I'm looking into and may try but the typical crash bar set ups are not readily available for the FZ-09 yet. So for now I wanted to keep the stock stator cover in one piece if I fall again. Hence: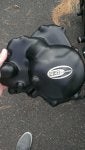 I Looked at a lot, if not all the left sided protection that's out there and settled on the R&G cover for a few reasons. 1) I could buy just this cover, not a whole set. 2) It works with what I've already got. 3) R&G has a good rep seemed and it like a good product. 4) It also protects the water pump. 5) It was reasonably priced. Most of the stator protection protects only the bottom side of the stator cover, it seems to me they would not protect the center / upper edge which can easily make contact in a lay down. Maybe in conjunction with other kit parts they do, like the entire T-REX kit or Woodcraft or something, I don't know. If you got a kit please lay it down and take some pics. I'm interested.