Just wanted to know if someone outside Quebec, Canada could tell me if its possible to order parts from yamaha from the MT09 Street Tracker for the FZ09?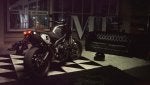 I am specifically interested in the high exhaust and perhaps the front fender supports, side plates and maybe the front fairing. Came across the side plates and front fairing via eBay UK but lost out on the deal. Went to two local dealerships but both claim it isn't possible... which sounds like BS to me. Would rather order it from our side of the pond to avoid the currency exchange rate with Europe (i.e. Euro or Pound)
Cheers
EDIT - Picture added.