Discussion Starter
·
#1
·
I haven't seen this mentioned so I thought I'd provide "one" solution for those who just can't justify spending hundreds on a new seat.
Mountain bikers and road cyclist have the same problems as those of you experiencing what pretty much boils down to as pressure points. Their seats happen to be a lot more uncomfortable than ours. Worry not, their solution can transfer over to the sport bike.
Let me introduce you to the chamois, or short liner, or cycling short.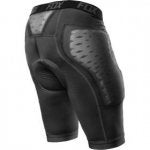 $50 dollars on
www.foxhead.com
.
Additional benefits to a happy bum happen to be cooling, wicking, no chaffing, shifting. If you ride in jeans these will fit underneath. They are used instead of boxers, underwear.
There is versions with less padding on the hips if you are a hipster with jeans you can barely put on, or race leathers.
I ride a full suspension mountain bike, and happened to use fox gear which had a chamois. The first time I used it on the FZ it was a night and day difference in long ride comfort. I now wear it every time, and experience no more pain. I have suggested FOX, because it's what I use and know and they make excellent gear. But there is lots more different brands, styles, and levels of padding available.
No go forth and concur those pressure points, or better yet a chamois with one of your fancy seats.