Proud owner of Blazing Orange #402.
In 3 months with my car and trailer towing it every where to ride all kinds of roads here and North Pennsylvania 2 trips so far 2 more scheduled)): 8000 kilometers (5000 miles) I scrimped and saved since september last year to make it happen! My first real new bike , first sport as I grew up on dirt bikes (Honda XR80, XL200). I've owned a Yamaha XT225 and WR450 (similar insanity levels as the FZ09!)
I've been reading these boards almost religiously since January when I first saw the beast at the motorcycle show. You guys are amazing and so helpful!
I've been reading about all the modifications and had so much to say I kept putting off posting.
Anyway about my bike. I absolutely love it so much!!!
The power and now the sound (M4 installed last week!) and pure visceral anger and soul of this bike always make me go wow! and smile!!!!
This pic was taken this weekend up around Rousseau (great riding roads there!!!)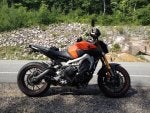 Here are the modifications I have made more or less in order:
1.
Front blinkers
then rear. I'm not happy with the rear as they aren't visible enough , I want to go with integrated tail light. I had ordered one but it came with just a circuit board and needed me to cook the light etc. I sent it back!
2.
SEAT:
First order of business was the seat which was too hard for my butt! I ordered the Yamaha "Comfort" seat and was ok with it for a while. Then I wanted better so I brought the comfort seat to a local car upholsterer who recovered a seat for my last bike 2003 BMW Dakar. The seat returned was definately better, he had put in 1/2 inch of foam everywhere (as my gf rides on the back regularly!) . After awhile I wanted more so I ordered gel, that didn't work well and ruined the smooth seat. So i returned to 1/2 inch foam addition and am 80% satisfied. It's still a little hard
3.
Barkbusters
: Coming from the Dakar, I wanted hand protectors for the cold and wind. The problem has been the vibration once end weights are removed. I am trying silicone next week. I had ordered the barsnake but it won't fit right and drilling 3 holes under the bars (suggested by Barsnake) is a no go.
4.
Tail Tidy:
Graves Motorsports really helped looks of bike. But mud flies up a lot...does anyone know of a fender wheel hugger extender?
5.
Front sliders
: OES to protect if bike falls and feet up on boring highway
6.
Windshield: I ordered the Madstad
Engineering one I installed it and hated the huge disfiguring metal probosis. I took it all off, I have tall and flyscreen and full mounting if anyone wants it: $200
7.
CCt
I will have my trusty non Yamaha mechanic install Fizzer kit as he is great at those.
8. Yamaha vent mesh inserts and IP rad guard (these were first mods)
9.
Rear tire
was toast at 6000Km so i installed a Michelin Pilot Road 4 and love it!!!!
Future mods :
Reflash of some sort (winter) and Stoltec Suspension.
Maybe tail bag. I am in dire need of anew jacket first and helmet tbh...the FZ-09 sucked up all my money but all worth it as this is my first real bike.
I can't wait to hear from you and will post my adventures and mods/challenges.
Would love to organize a local Toronto ride /Meet.