Hey all, figured I'd try this posting thing, normally just lurking.
Gonna start up my build thread here for my 2014
Red FZ
... red makes it faster.
Here is my list of mods (
not necessarily in order of importance
) that I'd
like
to do, which I will cross out as I post/complete them. Not all of them will happen most likely as I am not a wealthy man, but I digress. Starting this thread I have completed some of what I want to do, and will be posting the pictures over time!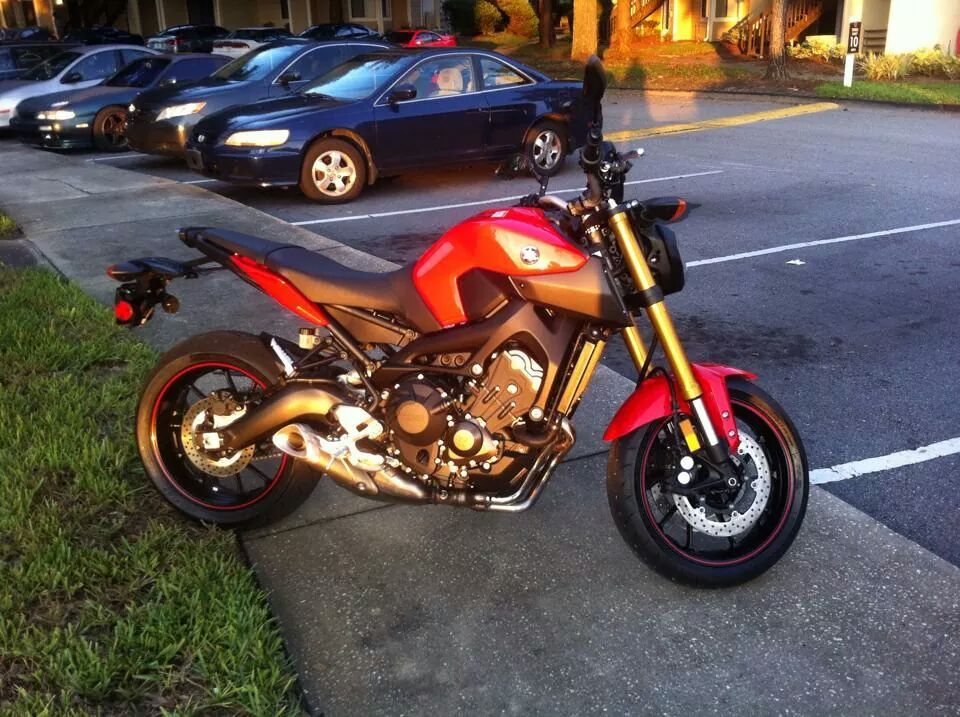 INCOMPLETE
Dynojet Power commander V.
Speigler Braided brake lines, front & rear. (Red)
Replace turn signals front.
Get rid of ugly (
IMO
) gold color on forks.
Get R&G rad. covers. (& Painted red)
ASV Brake & Clutch levers. (W/
Black
adjusters)
Mesh air scoop covers.
Extended rear hugger. (Hopefully it will help with the absurd amount of water that ends up on my back)
Powder coat rearsets
black
.
Powder coat bars
black
.
Powder coat wheels red. (Maybe, not 100% sure this will look great, might need a slightly different shade of red)
GPR Steering Stabilizer.
Rear shock upgrade.
Projector headlight upgrade.
Luimoto
seat cover in red.
Dynojet autotune unit.
Dynojet quick shifter unit.
COMPLETE
Fender eliminator:
PSR
Univ. tag bracket & stock extender
Tank Protection:
Pro Grip
Clear center pad &
Tech Spec
knee grips
LSL Frame Sliders & Front/Rear Axle Sliders.
K&N Air filter.
Replace turn signals rear:
Speedmetal
led license plate frame, I also put in a LED relay from Speedmetal.
Full exhaust system:
IXIL
L3X Hyperlow
Black
Full System
​
Enjoy the thread!