Stock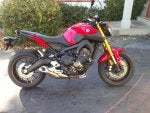 I am retired and was not looking forward to winter with no project to work on so as soon one of the local dealers got an FZ-09 in I bought one. I road it home (21 miles) and began tearing into it. This is what I have done so far.
CREE LED Headlight Bulb Installed
Constructed Windshield Mount
This was a nightmare to design but I am very happy with the results.
The windshield was an old one in my pile of parts in the basement.
Anyone know what it was originally for? It is a Cee Bailey.
It might be 20 years old so it could have been for a lot of bikes I had.
It would be handy to know just in case I ever have to replace it.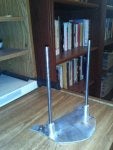 Needed to be more sturdy so added these inside the front cowl.