My First Bike Build!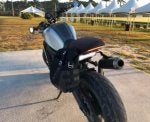 View attachment 137297
View attachment 137289
I opted for a 'New' 2016 model because I loved the color and buying a 2016 versus a 2018 allotted me a larger spending budget on upgrades and accessories; can't say I regret it. I just recently reached 2K miles and installed everything myself in the last +2 months.
Without further delay here are my modifications, most of them are XSR specific:
New Rage Cycles Fender Eliminator Kit (Tucked Plate)
New Rage Cycles Turn Signals
Akrapovik Racing GP Full Titanium Exhaust System
CRG Handle Bar Mirrors
SW-Motech Legend SLC Side-Carrier (Left)
SW-Motech Legend LC2 Saddlebag (Left)
I have some potential modifications on my mind, such as:
SW-Motech Skidplate
SW-Motech Windshield
SW-Motech Headlight Guard
Yamaha XSR Black Suede Seat
Continental TKC80 Dual-Sport Tires