MCN Test of Nakeds, including the MT-09
In todays edition of MCN, there is a group test of 4 naked bikes.
I am not sure, how long time they have spend doing the test - in fact, I think it is purely done from the editors desk.
Also, please have in mind, that MCN is a UK newspaper, that favours anything British
so take the end result with a grain of salt.....
Here goes part 1: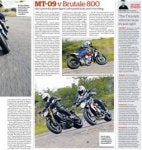 Part 2 follows in next post