===> here it is, mannnnn the sound is much better live than through my S5, deep crawling tone yeaaaa
Pros:
* awesome price point $500 bugs for a full sexy deep crawling exhaust
* 1/3 of thew weight of the OE
* bolt on, slick easy and streamline to the body
* made in Spain / Barcelona vs knockoffs
* ooh great support support from IXIL site, great dudes
Cons:
* was a bit disappointed that the inner tubes where not de-bured (sharp edges)
* also their was machine dust still in the headers (I know I'm anal) but for that price I cleaned it out prior install
* you need a couple of 12 metric wrenches (angle) nuts, its pretty tight to bold the nuts back on
* also (no biggie?) the tip is about 11/2 out of the rear set loop, so if you lowsite on the right the tips will get damaged
Overall... I love it and can easily live with all the cons
Before I forget, David from vcyclenut flashed it with an akro fuel map. I must say the sound and the throttle responds (short 10 mile run @38F up in MN lol) is awesome -great job!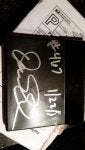 I love your signature, but I would rather have it on a label (so that I can removed it if needed).