The FIZZER CCT KIT is an economical, and immediate solution to the faulty Yamaha CCT. The kit consists of the following:
(1) Stainless Steel Set Screw M6 x 1.00 x 25
(1) Stainless Steel Flange Nut M6 x 1.00
(1) High Temperature (500F) Non Metallic Washer
(1) Set of Instructions
Cost is currently $10 shipped in the US.

CANADIAN ORDERS will incur a surcharge and will be sold at $13 SHIPPED
.
PLEASE SEND PAYMENT AS A GIFT
Beginning 4/25/14 we are offering same day fulfillment, or next day fulfillment on orders received after 12 noon eastern time!
Please PM me with your kit request, please include your address!
I will respond with your order #
Include order # with your payment method of choice.
Payment methods:
Paypal
Google Wallet
Send as a gift to:
[email protected]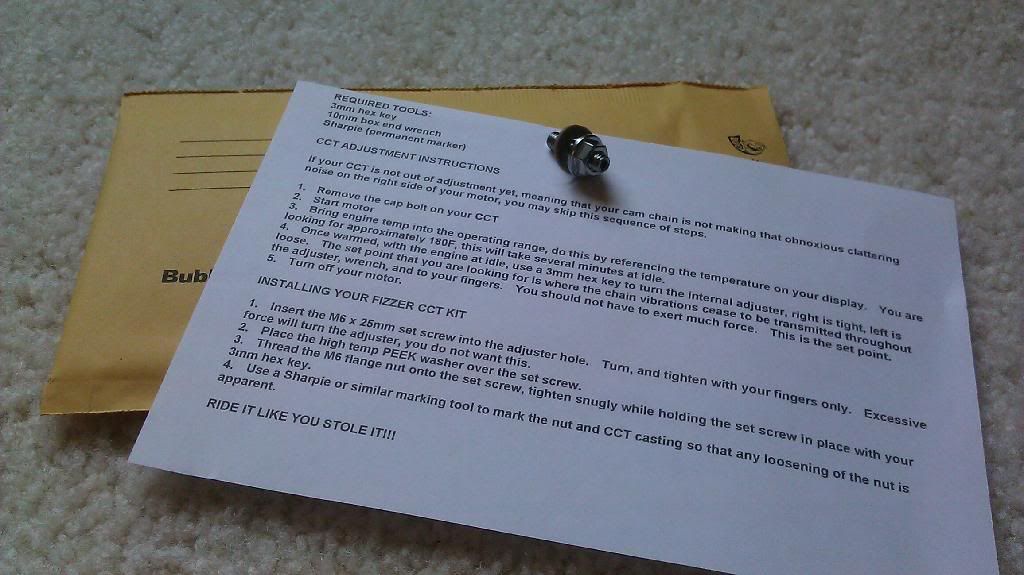 Here is a short video showing an operative CCT tensioner finding its set point. Note the bike is at operating temperature, because this causes the chain to tighten. I loosened the adjuster 3/4 turn, the rattle is apparent. Removing my finger from the wrench, the adjuster begins to adjust to its desired set point. This point is approximately 1/2 turn past the point where the rattle disappears. Now, if you have poor hearing, this is not a good gauge. However, as the adjuster tightens, the vibration through the wrench/adjuster becomes less. On a working CCT tensioner, the point that it seeks is where the vibrations disappear through the adjuster. No more, no less!
Your ears will fool you, use your tactile senses! The tensioner seeks approximately 1/2 turn past "quiet at idle".
My finger is applying verrrrry light pressure to the wrench, only to accelerate the process here. I am NOT applying force to turn the adjuster.
http://m.youtube.com/watch?v=ipfG6uMAg5s
The staff:
Robert, age 4, is in charge of order fulfillment.
Paige, age 11, is part time, in charge of PR
Wifey, who is forever young, is in charge of quality control (see above), and shipping.
I just play all day on the forum.