Discussion Starter
·
#1
·
I ran into a problem last night installing valve shims for my first time doing a valve adjustment and was hoping for some tips. For what it is worth, I did use the forum search as well as a google site search and read up on valve adjustments before hand. This was great because I knew to buy a 14mm hex socket before starting. I've been using the service manual as a guide through the job without problem until I went to install the new valve shims.
My method for installing the shims was to:
1. Wipe clean the valve shims and the mating surface of the valve bucket with a microfiber rag.
2. Dab a bit of engine assembly lubricant to
both
sides of the shim.
3. Carefully place the shim, number side against the bucket, into the bucket on the mating surface
4. Flip the bucket over and let it rest
5. Use a valve lopper to move the bucket from my bench into the valve (cylinder?)
This worked for 8 of the 11 buckets. Two shims just wouldn't stay on the bucket when I flipped it over. The remaining shim stayed on the bucket until I angled to insert it. At that moment, the shim slipped out and fell down the valve cylinder. The removal process took maybe 35 min and resulted in the casualty of at very tiny allen key.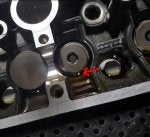 My questions are:
1. are you supposed to lube both sides of the shim?
2. Are you supposed to put the shim on the valve then put the bucket on top? Or do it my way?
3. If I
am
doing it right? What might be causing these 3 to slip off.