Good day fellow XSR owners and lovers! Hope everyone is riding safe and having a great time on this lovely machine.
This is a post meant to help people who have chosen to remove the AIS in their XSR-900 with the Graves block-off plates, or any other method that involves removing the AIS solenoid sensor itself and unplugging the blue 2-pin plug from the ECU. As we now know, the XSR is different from the FZ/FJ in that it throws a code when it detects this system is gone. NOTE: this code must be manually cleared to go away, even if you plug back in the AIS sensor.
For information, here is the information on the specific fault code from the service manual: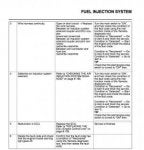 Hopefully this will bring you the same peace of mind it did for me.
Leave the AIS sensor plugged in (blue plug) and inside the bike so that the ECU doesn't throw P1400.

This is the simplest method, you just have to be okay with leaving those bits and pieces in the bike. NOTE: if you've already gotten the error code, it will not clear itself if you plug back in the AIS. Remember that this code will be thrown any time the motor is turned on and the AIS is disconnected (without one of these fixes applied).
Clearing the fault code
If you do find yourself needing to clear the code, the solution is simple, if a bit tedious and somewhat expensive (up front). As mentioned in the service manual, you may use a generic OBD2 scanner to read and clear codes in the XSR ECU. I picked one up at my local auto zone (a decently nice one with a screen) for 80 bucks. I then used the information
over in this thread
to wire up the power + CAN connections from the OBD connector to the ECU diag plug under the seat. I was able to read and verify the fault code number, as well as clear it. The light has remained off with subsequent engine starts now.
Very special thanks to forum members
XSR-900
and
Catch22
for assisting myself and others in getting to this happy ending.
Good luck and safe riding!