Discussion Starter
·
#1
·
So I recently posted up about how I got my tires changed and the dealer marred my rims but that's another story. Today I was able to take the bike out for a spin finally and now I'm noticing head shake when accelerating hard. I rarely had issues with this before but we all know how this front end gets a little light and likes to wiggle. Well now, it occurs nearly every time I accelerate at full throttle. I put on a new set of Michelin Pilot Sport 2's front and rear. After leaving the dealer, I set my tire pressure to 32psi front and 34 psi rear which is where I had them on the stockers. I was pretty pissed off that they marred my rims, but now I'm furious as the bike just feel dangerous under acceleration. Part of me wants to take it back in, part of me says its something I need to look into on my own because I don't trust them. So what would cause this problem? Two things I noticed, first on the front axle there is like a neck exposed on one side of the axle and not the other. Is this installed correct and could someone see if their bike looks the same? Second, they installed the tire the opposite way on the rim (see photo). The tire is rotating the correct way, but the spokes of the rim are opposite direction of the of the rear. Are rims directional and could this cause it? Is it improperly balanced? Uhhh help!
Front rim wrong direction. Tire is correct direction though.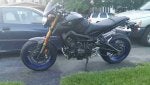 Necked down section of axle sticking out.
No necked down section. Is this normal?