*** This is a review I've done over in the UK so some of the content isn't relevant to you guys, prices, ECU flashing, shipping etc ***
OK so there's no denying that there is a considerable percentage of MT-09/FZ-09 riders around the world that find that throttle can be somewhat jerky/snatchy/on/off. This is something that almost always crops up on any kind of MT-09/FZ-09 review. Some people are fine with it, some people are not. For me personally I found that the jerkyness of the initial throttle roll on especially through lower speed corners was upsetting the attitude of the bike which in turn gave me no confidence with regards to grip levels, it was also causing a small amount of kangarooing while going over speed humps or bumpy roads. This meant I was spending far too much concentration on micro throttle inputs, I'd rather that the throttle was completely natural and not something that had to be thought about all the time.
Currently there's a lack of ECU flashes available in the UK so the only other real alternative to addressing the fueling is fitting a Power Commander and getting it tweaked on a Dyno (£350+). And I don't know about you but after just spending £7200 on a new bike, screen and exhaust I didn't really want to chuck another load of cash at it just yet. I know a lot of owners of other modern fuel injected bikes have had some success taming their throttles by fitting G2's 'Street Tamer Throttle Tube', but of course they don't list one for the MT-09/FZ-09. So after a bit of part number digging and a load of emails to G2 I've managed to find out that one of their products does actually fit the MT-09/FZ-09 (see below). So I got it ordered up straight away and now that it's here and fitted I've contacted G2 again informing them that they may as well start listing the MT-09/FZ-09 on their product list now so it may well show up on their website at some point. So if you're interested all the info you need is below:
What is it?
It's a replacement throttle tube.
What does it do?
Improve control of over-responsive power characteristics of most fuel injected motorcycles. In short this should somewhat dampen the on/off jerky throttle during the initial throttle roll on (pulling away, mid corner etc)
How much does it cost?
The total cost including shipping from the US to the UK was £62.59 ($104.70)
How does it work?
The Throttle Tamer incorporates a non-linear ratio between hand throttle rotation and carburetor or throttle body opening. The "pulley", or as we call it, "cam" pulls the throttle cable as the rider rotates the grip/tube. By altering the conventional, circular shaped cam, a vast improvement in control is achieved.

The Throttle Tamer has a cam with a reduced radius initially, which requires a slightly farther rotation to achieve the same carburetor or throttle body opening position as a stock throttle. This virtually eliminates the jerky "throttle snatch" especially evident in modern fuel injected street bikes. The radius increases or "ramps up" after ½ throttle to keep overall rotation requires to reach full throttle at or near stock rotation.

The actual throttle for this bike comes with what G2 call a '400 CAM' which I'm told has a 20% smaller diameter than the stock throttle tube for the first half of the throttle rotation then ramps up to the stock diameter for the second half of rotation. Basically this means that only the very first throttle roll on will be tamed and the overall rotation from closed to fully open will remain at 1/4 turn (or close) just like the stock throttle. Worth noting though that the cam is replaceable and G2 offer 6 different cam profiles (sold separately) to allow for fine tuning to your own preference (G2 Cams - G2 Ergonomics). As far as I can see the supplied cam should just press off and can be replaced by these but I've not tried any so cannot comment on fitment or performance.
Where do I get one from?
Here, choose any of the following models from their website and you'll be sent a 130mm long throttle tube with a 400 cam profile which is what fits the MT-09:

FZ1 01-12
FZ6 04-12
FZ8 11-12

G2 Street Tamer Throttle Tube - G2 Ergonomics

Delivery from the US took 1 week.

The Yamaha FZ8 '11-'12 uses the exact same throttle as the '13 - '14 Yamaha MT-09 (Grip Assembly 4YR-26240-02). You can check for yourself by going through the 'Online Yamaha Parts Catalogue' if you like, but I have fitted this to my MT-09 and can confirm that it is a direct swap for the stock throttle with no modification needed.
What does it look like?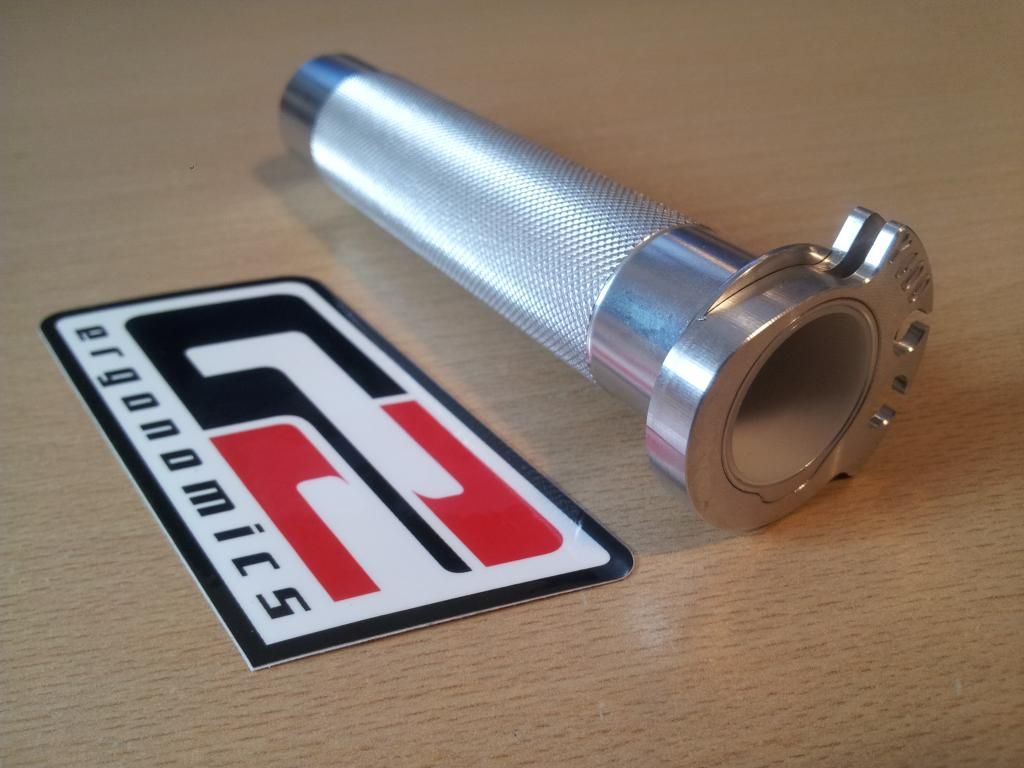 Here you can see the cam profile: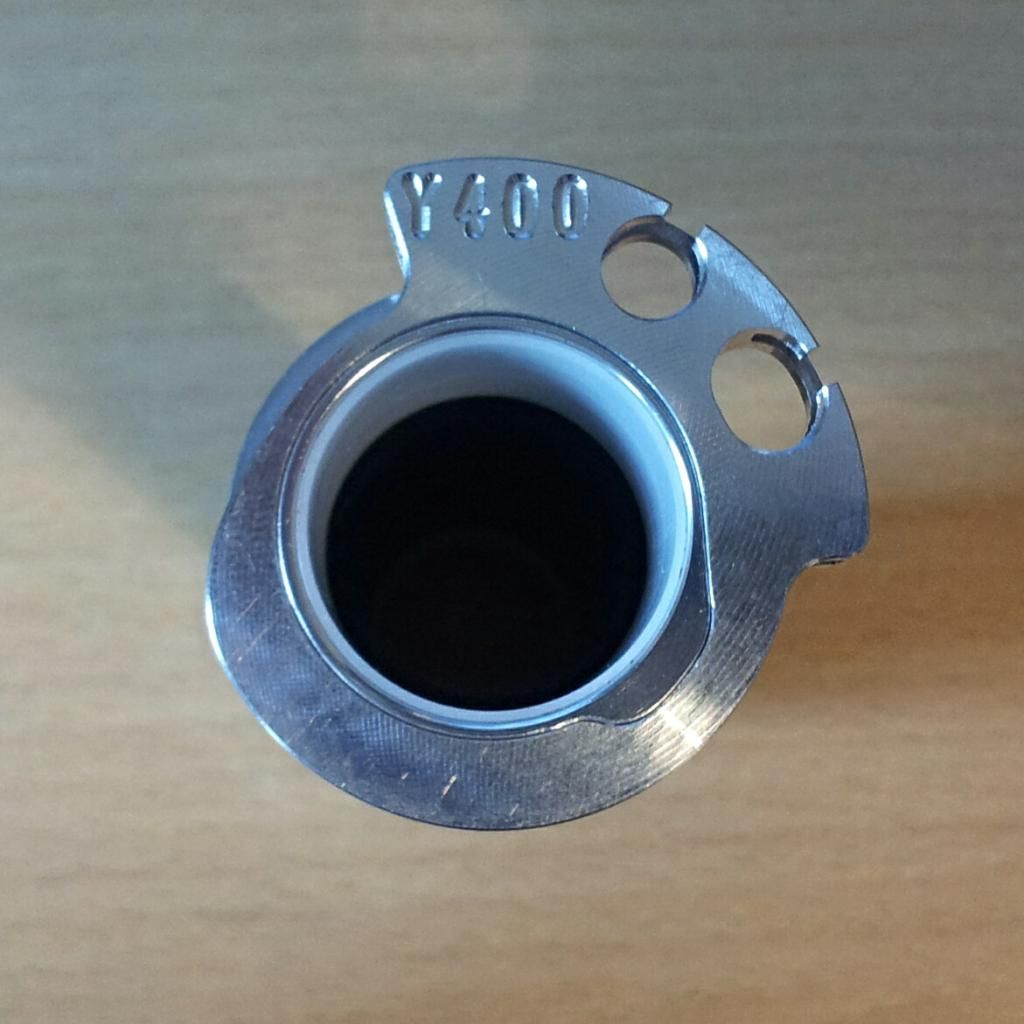 Stock throttle (no cam):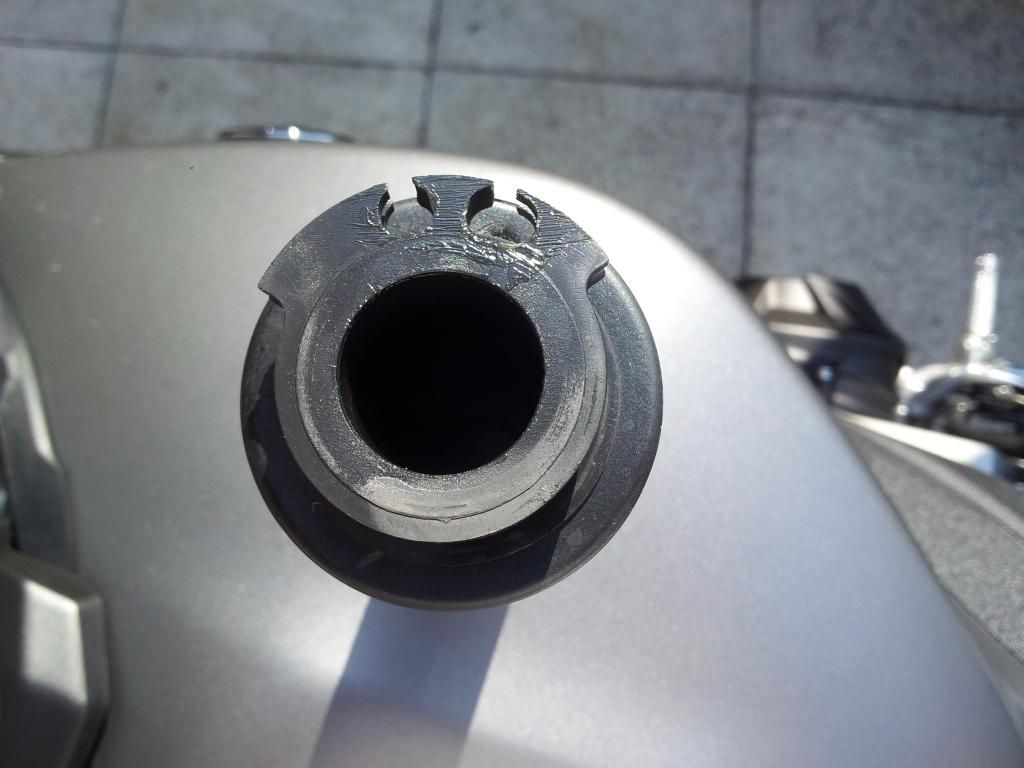 How do I fit it?
It's a direct replacement for your standard throttle tube:

1. Remove your bar end weight with an 8mm Allen key.
2. Slide the rubber cable cover away from the throttle housing.
3. Remove the 2x bolts holding your throttle housing together with a 4mm Allen key, the housing should now coma apart in to two pieces.
4. Unclip the 2x cable ends from the throttle tube.
5. Slide the throttle tube off of the end of the bars.
6. Remove the grip, I did this by poking something long and thin down under the grip and pouring water down between the grip and the tube, this works great with no brute force required.
7. Fit the grip on to the G2 Throttle Tamer, again pour some water around the inside of the grip and it'll slide right on, the water will then dry leaving the grip on tight. No glue, no fuss, no mess.
8. Follow steps 5 back through to 1 in reverse to refit the new throttle tube. Note that when refitting the lower throttle housing there is a small hole in the underside of the handlebar for this to locate into.
9. Finally adjust the throttle cable slack using the adjuster on the cable.
10. Go ride.
Does it work?
YES!!!!! This is now my bikes new best friend! Worth noting that prior to fitting this I'd already adjusted my in dash C0 settings to 14 on all cylinders (as tried and tested by many forum members) and also adjusted the throttle cable properly to eliminate any slack which did not really help with the jerky throttle. But now since fitting it the bike feels so much better. Throttle roll on is smooth and predictable as it should have been from the factory, I now ride in A-mode all the time and am no longer having to concentrate so much on throttle control. There is still a very slight jerk when first rolling on from a closed throttle but because of the cam at this point the throttle is open a lot less than it used to be so its a much softer and more manageable jerk and no longer upsets the bike attitude like it did before. I can also confirm that the rotation required from closed to fully open is still just 1/4 (see pics below) which I'm told is what the stock throttle is also so overall acceleration is just the same as it was before. Hopefully now the jerky throttle issue is a thing of the past for me.
Throttle closed vs throttle open (G2 Throttle Tamer fitted):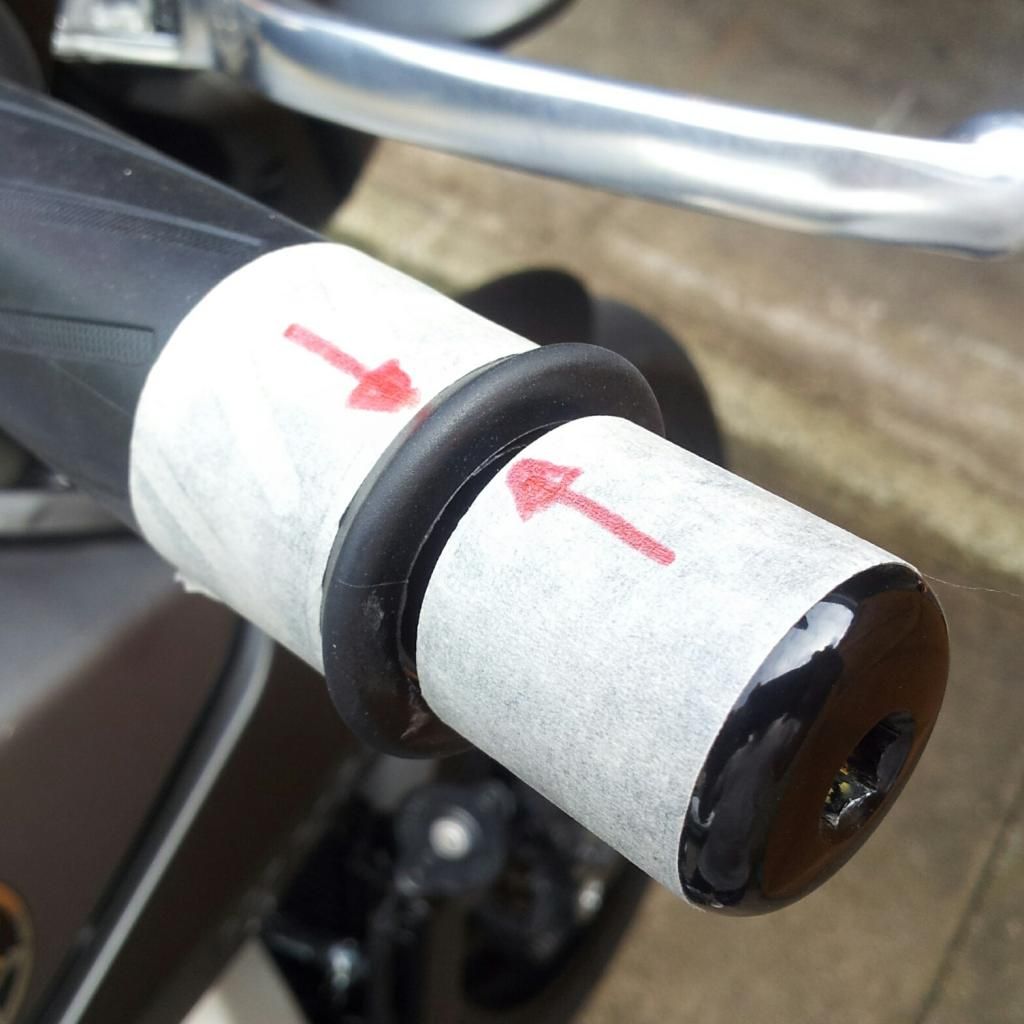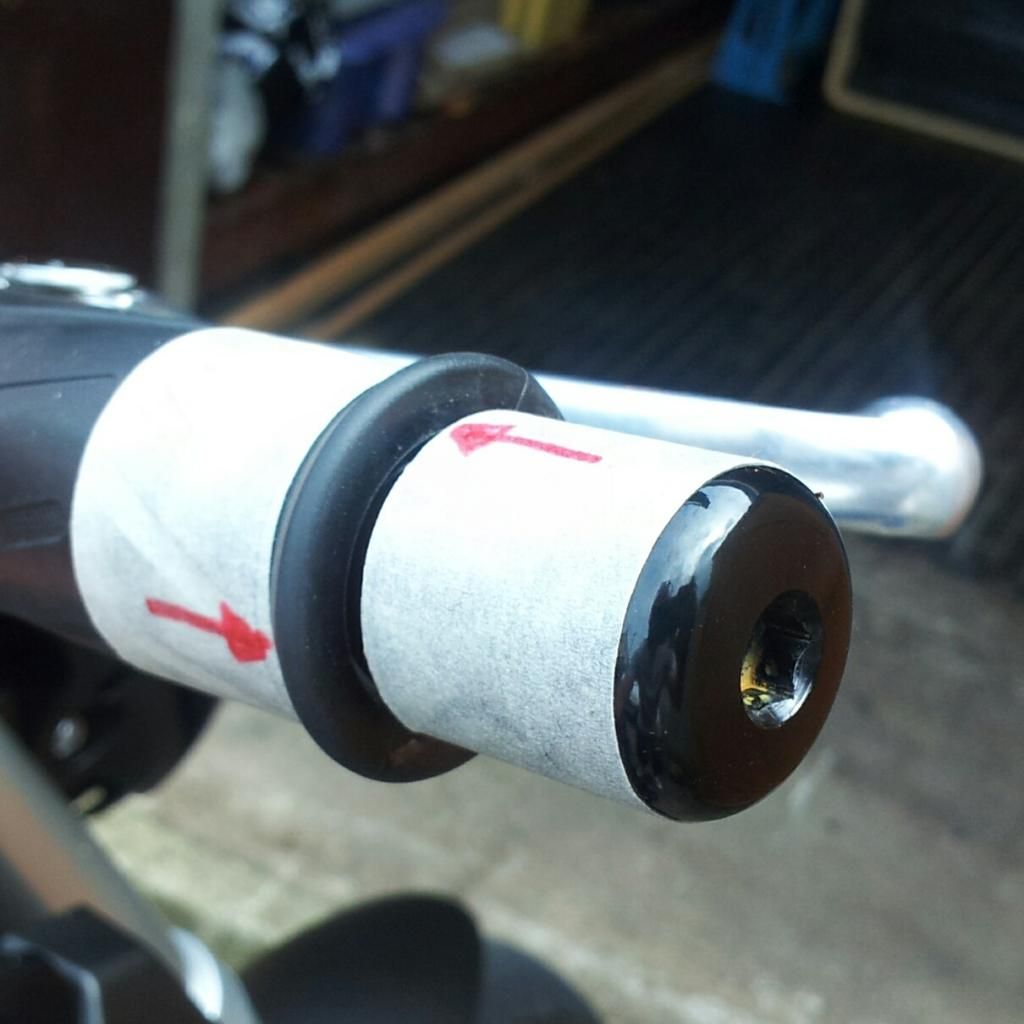 Five stars as it's well worth the £60 and 10min fitting time and has added a ton of rideability to my bike. I'll still be getting the ECU flashed when available as I do have an open pipe and also to rid me of the savage engine breaking but for now for me at least rideability and confidence have gone right up after fitting the Tamer without noticeably affecting performance
So I won't be taking it off any time soon.