Discussion Starter
·
#1
·
I bought these boots for $190.00 here:
Icon 1000 El Bajo Boots - RevZilla
I wore them 2-3 times when I first got them, and I thought I would wear them more. The problem is, I have black riding textile pants and black riding jackets. I commute 90% of the time so I wear my black boots. These things just sit there, looking cool. They would go great with anyone who ride with kevlar lined jeans, or just doesn't care about protecting their legs and wears normal denim. I just can't justify having these things sit there with how much I paid for them, someone else needs to use them.
No major sign of wear aside from discoloration on the bottom of the boot. The ground isn't clean. See condition in pictures, barely worn like-new. I have conditioned the leather twice, once when I got it and just this week. I didn't get any conditioner on the suede. They are two months old.
Located in SF Bay area, CA. I'll pay cheapest damn shipping I can find, if you want it faster or insured that is up to you to pay for.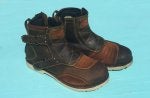 `