Discussion Starter
·
#1
·
Dealer called me yesterday and told me my parts were already in. So here is a quick idea for how the mount for the rest of you. They are almost a complete ripoff of blaze saddle bags(which I had on my zx10 and are the bags I will use). Biggest plus to this system is your bags don't sway around on you. I have taken many trips on my zx10 and this was a must have for the 09. Only drawback is the bags do touch the turn signals with the graves fender eliminator.
The mounting kit runs $119.99 and you receive this.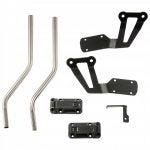 They also sell the bags that are $274.99.....However my blaze saddle bags are identical.
So you attach the brackets to the same mount as the passenger pegs.
Then slide the polls in.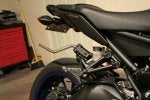 Slide your bags over(blaze saddle bags actually have a press lock that attaches via strap to the bag)
From there pack up and get the hell out of town!