Sold!
Well, I have decided that the passenger comfort just is not at the level that my wife and I were looking for; on to the Corbin for us.
That said, for sale is this excellent condition Yamaha Comfort Seat. I have included a few of my basic "reviews" below. The comfort of the rider section is a noticably better than stock while the passenger section is about equal. From an aesthetics standpoint, this thing looks great! In fact, I am going to use a few styling cues when I order my custom Corbin.
Reviews:
First 30 Miles: Not really enough to report on, but my initial impressions:

While plush (more plush than the stocker) the seat is still a bit on the firm side. The cover and foam seem to be more "Pliable", for lack of better terms, reducing some of the hot spots that I would get with the stock seat.

Overall, I am happy with the purchase so far. We will have to see how the passenger section is for my wife before I make a final call.
Just another Update/Quick review:

Another 300-400miles under my belt and I will say that the seat is decent. Is it at the level of the Corbin's or Sargent's that I've had in the past? No. Is it better than the stocker? Yes.

I would rate it accordingly at this point:

Aesthetics: 8
I think they did a great job with the styling on this seat. Subtle but has some nice details in the stitching/panels

Fit: 8
Much more secure than the stock seat. It must be in the rubber supports; perhaps they are larger than the stock pads.

Comfort, Rider: 6
Keep in mind that I would place the stock seat at a 2 at best. I could easily last a tank of fuel without too much discomfort.

Comfort, Passenger: 3
This is the only reason that I will likely not keep this seat. Again, I think we can all agree that the stock passenger section should be rated a 0 or perhaps a 1 if you are feeling generous. The comfort seat has added some softer foam but did not increase the thickness at all; limiting the effect of the new foam.

All in all, as a commuter or 1-up option, I don't think you can go wrong for the price. If you are looking for something to tour with or for 2-up riding, I would go for another option.

Hope this helps Someone out there!
-Approximately 500 miles of total use.
-Yamaha Part Number: 1RC-F47C0-V0-00
-Factory MSRP: $299.99
Asking $205 o.b.o + Shipping
Please feel free to PM or e-mail me at any time if you have questions or would like a shipping estimate.
Thank you for looking!
Scott
[email protected]
Photos:
URL=http://s895.photobucket.com/user/skooter65/media/2014%20FZ-09/ACD95E44-A717-47D7-8DDB-99AB3C1AC09C_zpsglidmpxr.jpg.html]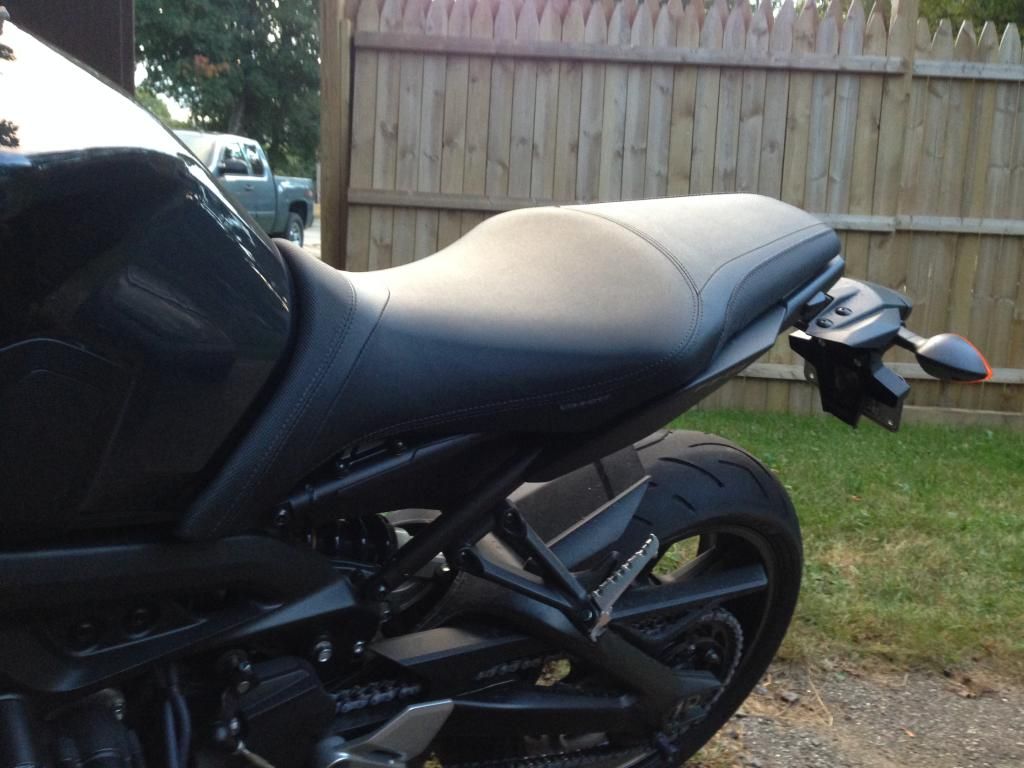 [/URL]