Discussion Starter
·
#1
·
EVERY ONE WITH A HYPERPRO AND THEIR CHINESE KNOCK OFF STEERING DAMPER PLEASE READ.
I would like to start off by testifying to all those who believe that everything in life is a mere statistical probability and chance of how wonderfully certain seemingly unrelated circumstances have very well prevented a catastrophic outcome and quite possibly loss of my own life. This afternoon I rode to work on my FZ-09 on an empty tank with reserve fuel gauge blinking, granted work only 10-miles from home round trip I did not stop by a gas station because I was running late to work. Needless to say I was riding easy and grandma soft in effort to maximize fuel efficiency. Getting off work I also rode home very carefully for two particular reasons one of them being the nearly empty gas tank. For those who noticed these bikes can get quite good gas mileage at least according to the on board MPG monitor if the speeds are low and throttle is not wide open. But these bikes are too much fun to be putted around all day hence the reason why I only do it in low gas situations. The second reason is that while getting off work talking to my wife on the phone for 30-minutes in the parking lot (she is away from home at the moment.) I noticed by "CHANCE" in a poorly lit parking lot (in a strongly sarcastic tone) that at the eyelet of my Chinese knock off Hyperpro steering damper that is mounted via Dimotiv Chinese knock off mount dislodged completely from the mounting bolt at the handlebar end of the damper rod. Please forgive me for lack of better explanation and pictures as this post is something of after the fact thought and again by "Chance" and "Coincidence" I am motivated to post this. Actually do not know what came over me because I never do this, perhaps I'm too lazy or something of that sort, but I have better things to do then to spend time writing posts. However this is a potential SAFETY ISSUE. ESPECIALLY for the guys that mounted their dampers underneath via fork clamp BECAUSE IT IS EASIER TO OVERLOOK AND NOT NOTICE IT. ANYWAYS the bolt itself is not the issue it did not vibrate its way out of the threads I coated the threads with RED loctite. The issue is the swivel bushing itself or whatever it is called.


I hope the picture and the arrows explain what I'm talking about. Basically there is no mechanical part (Such as C-Clip) that secures that bushing that houses the swivel bearing in place inside the ALUMINUM eyelet other then some tensile strength from being pressed in. Needless to say this is my modification I know its kinda rudimentary but I'll see how it goes. I should have used some GRUB SCREWS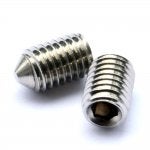 However mind you it's 23:00 the stores are closed and I would like to ride to work tomorrow. If this fix is insufficient I will replace the screw with a grub screw of bigger size and thread. The one I used is M3x0.5(I think) I might go up a size while adding more of them around the perimeter of the eyelet 3-6 or more depending on the impact of visual aesthetics, and my willingness to spend hours and hours playing around with this modification, ie. spacing drilling and tapping all the holes. By the way I did use red locktite on that screw because I don't expect, neither do I want it to ever come out so I would recommend the same for everyone. Also I'm not sure how to explain it without actual pictures but don't forget to drill in a small dip into the actual bushing to match up with a cone shape end of the grub screw, DO NOT drill through the bushing completely. Basically all you need is a shallow sinkhole in the center of the bushing. I did this by installing the bushing into the eyelet, setting it to proper depth, just like its supposed to sit, then drilling the hole through the eyelet and a tiny bit more into the bushing, then remove the bushing to thread the eyelet, and assemble everything back and install the screw with loctite.

Another thing I would like to get out there before someone starts blowing up this thread of how horrible Chinese engineering is. I WOULD LIKE TO REMIND EVERYONE that these are Hyper-pro knock offs. That means that Chinese simply pirated off the actual branded engineering schematics and manufactured the parts unbranded. Unless they and me included are missing something but this picture from HYPERPRO does not clearly show what is securing the bushing in place on the actual HYPERPRO branded part.




My personal suspicion is that HyperPro branded part are just as "RELIABLE" and "DEPENDABLE" as their unbranded counterparts. HURRAY for world leading Dutch engineering!!!!

Anyways I hope you guys will take this into serious consideration. I advise everyone to perform this mod or any other mod to prevent the eyelet from popping out. (oh yes it popped out through the top of the bolt, because underneath the Dimotiv handlebar arm jig would stop it) Take NOTE this can pose a serious SAFETY hazard if the steering damper rod jams-up against something and some how and prevents steering movement for a split second (or longer, but split second is all it takes to wipeout). This is especially true for those who mounted their dampers underneath the tripple tree where there is more parts and objects for this damper to jam up against.
Anyways this is just my five cents and I hope it helps and prevents a catastrophic failure and death of anyone. Ride Safe and have fun.


P.S. perhaps moderators can move this thread or mark it so that maximum amount of users can read it, something tells me that a lot of FZ-09 owners have or think about installing a steering dampers, I recomend it also it's a night and day difference in handling and the front end composure with a damper in place.