Discussion Starter
·
#1
·
Beautiful day out - about 80 degrees. Just my mesh jacket and riding jeans. Left at 8:30 this morning and then last stop before coming home we grab a snack and Sparky's Restaurant in Hatch, NM. Pull into the neighboring parking lot and down I go! Under my helmet yelling the f-bomb on the way down. Just ticks me off. Why?! Totally operator ERROR. I HATE THAT! Ugh! Then all the guys I'm riding with come running to pick up my bike and I'm shouting under my helmet, I GOT THIS! They completely ignored me and picked it up, being the gentleman they are but DAMN was I PISSED OFF! Can you tell?!?! The ride home was beautiful and as disappointed that I was in myself, it's so cool, how getting back on
this bike
, a bike that can shit and get, forced a shit eating grin out of me. Anyway, here are the f'n pictures from my f'n f-up!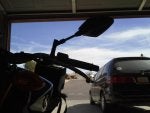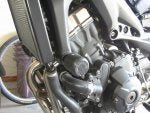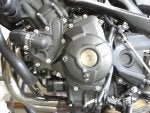 So . . . I'm giving the play by play of my incident to my husband after I pull into the garage. I finish and he just looks at me and says, "I'm gonna have a beer, you should probably have one with me". I'll be g-damned if that ain't wait good friends are for. Glad I had Stoltech's frame sliders installed instead of sitting in the box. I'm having another beer, namely Sierra Nevada's
Ruthless
Rye IPA. Love that stuff. Gawd - I'm glad you folks are here. Good talk.