Discussion Starter
·
#1
·
Hey Guys, new member. Bought the FZ-09 a few months ago and have loved it for the most part. I come from sportbikes, so the suspension feels a little sub par which is to be expected for the price, but the motor, WOW! What a gem. They need to put this sucker in an R6 chassis.
Well up until last Sunday I had just been zipping around Nashville for work and such, but I finally got a chance to suit up in the leather and go for a real ride on my second home, Deal's Gap aka The Dragon/US 129. I hate to say it, but it pretty much sucked. I nearly turned around and went home after the first few turns. Not because of the tourist, or cops, or Harley's/Squids/Drifters/Weather/etc. All of that was actually pretty darn good for summer weekend. It was a perfect Sunday for a ride at the Gap, but the stupid throttle response of the FZ just about ruined it.
I have already ordered the reflash from Stoltec, just need to take the time to park the bike and send in ECU, so hopefully that fixes everything. But otherwise, I would probably put a for sale sign on it. It is inconceivable that Yamaha would let the bike go on the market like this. Combined with the bouncy suspension, this thing is a nightmare at a tight road like the Gap. You can't trailbrake, you can't roll on the throttle with any kind of trust... I was literally white knuckles the whole time.
I was eventually able to somewhat ride around the problem by seriously limiting my riding style/lines, and staying in 3rd gear the whole time, even though 1st and 2nd would have been much more appropriate. In the lower gears, the off idle response was just way too harsh, so tiny throttle inputs were the only way to carry any kind of pace through the curves. I was eventually able to run at a "quick' pace by most standards and get a knee down consistently, but it was nowhere near what I could do on my old ninja.
I will not go back until I get at least the ecu flashed, and I recommend to the rest of you planning trips to the Dragon to do the same before you waste you time and money. I have a house in Knoxville so it's not a big deal for me, other's plan their whole year around it and that would be such a shame. Speaking of, I did a see a red FZ09 up there on Sunday. Anyone here?
Regardless of how she rode, I gotta admit the bike still looked pretty damn good up there...
Does the tiny tail section make my ass look fat? Or is it just my fat ass... Bike looks so much better after chopping the fender and taillight.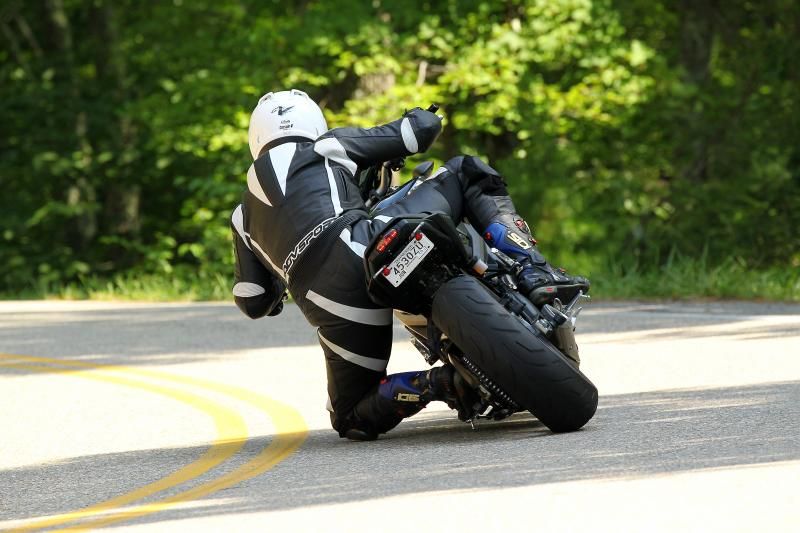 I'll post up a ride report (hopefully w/ video) of my next ride up there post ecu reflash. Hope to have a lot more good stuff to say by then.