Discussion Starter
·
#1
·
Hi everyone.
Its time for a 2nd project on my fz.....
The signs that I had was that my clutch was slipping at about 80mph in 3rd gear. When I wanted the bike to go, it never go... This problem has been getting worst like in 6th gear at 60mph with acceleration and max speed limited to 98mph. During these problems my oil turned a cloudy brown color. I could not see the silver part thru the sight gauge.
This was under really hard abuse to my clutch by doing clutch up wheelies. So this could have cause this problem to happen. I am not telling you to stop having fun or anything. After I get my bike back up and running, this wont stop me from doing more clutch ups.
So first picture is the clutch basket. I circled cracks that I found, also you can see a piece of the basket missing and part of the friction plate missing....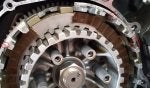 This picture you can see a piece of the friction plate missing again. Only a small piece right?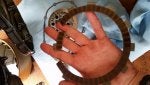 This one is crazy. This roll of was missing 75% of the plate itself! Thats all that I pulled from that stack....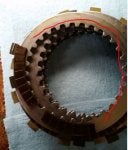 The piece of the basket and some friction plates are in my oil pan. I have to drop the pan to take all of the parts out... The reason why my oil was cloudy was because some of the plates got ground up and thats what turned the oil cloudy.... I ordered all the parts from bike bandit and I am just waiting for the reassembly.... For now I need to ride my sumo.......