Discussion Starter
·
#1
·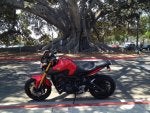 Big Bad Bike and a Big Bad Tree.
We all know what the bike is but do you know about the tree?
It is a Moreton Fig that was planted in Santa Barbara Ca in 1876.
Now it is the biggest one of its kind in the entire USA.
I am sure that just makes your day huh?
Actually it is a really cool tree. It reminds me of the big Banyan tree in Lahina on the island of Maui.
Amazing what one can learn on this forum.