Hi All,
For those of you interested in bar end mirrors for your stock handle bar, I thought I'd share my experience, opinion and photos. Hope it helps. Yes I know "best" is subjective.
Miscellaneous stuff out of the way: I wanted a mirror option where I could actually see things behind me and to my sides. Also don't really prefer how the stock mirrors stick up and the way that looks. Went with CRG Arrow mirrors and when I first took them out of the box I thought "These are way too small and will likely be going back". However, they are really clear and the convex shape of the mirror more than makes up for their size. I can adjust them to see behind me in both mirrors and can see cars to either side in the lanes next to me.
Notes:
- Not affiliated with SoloMoto.com but I was happy with their service and they happen to have all of these items for web link ease.
- There is nothing wrong with the Motivation product and it is simply preference and feature comparisons.
Round 1:
Ordered the CRG Arrow mirrors along with what was listed as Yamaha bar end adapters but they were too small and only for certain Yamaha sport bikes, not the FZ-09 for sure.
Greggs Customs Bar End Mirror Adpater for Yamaha/Aprilia
Round 2:
Reviewed postings on here and found an option for bar end mounts/sliders that was good and workable but they work by expanding inside the threaded portion of the bar end. It also helps to put some sort of spacers like crush washers to help keep the throttle side at a distance so the throttle movement isn't impeded.
Motovation Universal Fit Bar End Weights/Sliders
Round 3:
Was browsing on some parts web sites and came across a photo of Yamaha bar end weights/sliders that sure as hell looked a lot like the stock bar end weights. Ordered them and they are a perfect fit, screwing into the stock bar ends just like the stock weights.
RhinoMoto Bar End Mirror Mount (Threaded) for FZ1/6/6R 01-13
Pro/cons/observations :
Most obvious difference is RhinoMoto screw into the stock handlebar as intended vs expanding into the threads.
The Motivation slider portion is smaller and wouldn't offer as much protection as a slider as the RhinoMoto.
Because the Motivation slider portion is smaller, you do have the option to rotate the mirror further out/down where the RhinoMoto would interfere with mirror adjustment.
The RhinoMoto offers a bit more room on the grip because there is more of a spacer between the end of the bar and the mirror clamp. I have big hands and they made contact with the mirror clamp using the Motivation sliders.
Price - RhinoMoto's are cheaper.
Looks are subjective which is why there are plenty of pics attached.
fyi: Since my Motivation ends were mounted and used for 2 rides, they are technically used so I can't return them. I'll be posting them on here or eBay.
Pictures:
Internal view of stock bar end: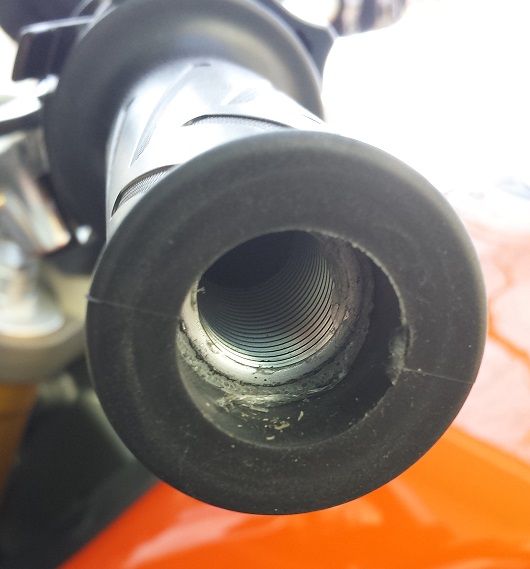 Incompatible R1/R6 Gregg's Adapter
End Weight comparison of Stock vs RhinoMoto vs Motivation:
Compare #1 RhinoMoto vs Motivation: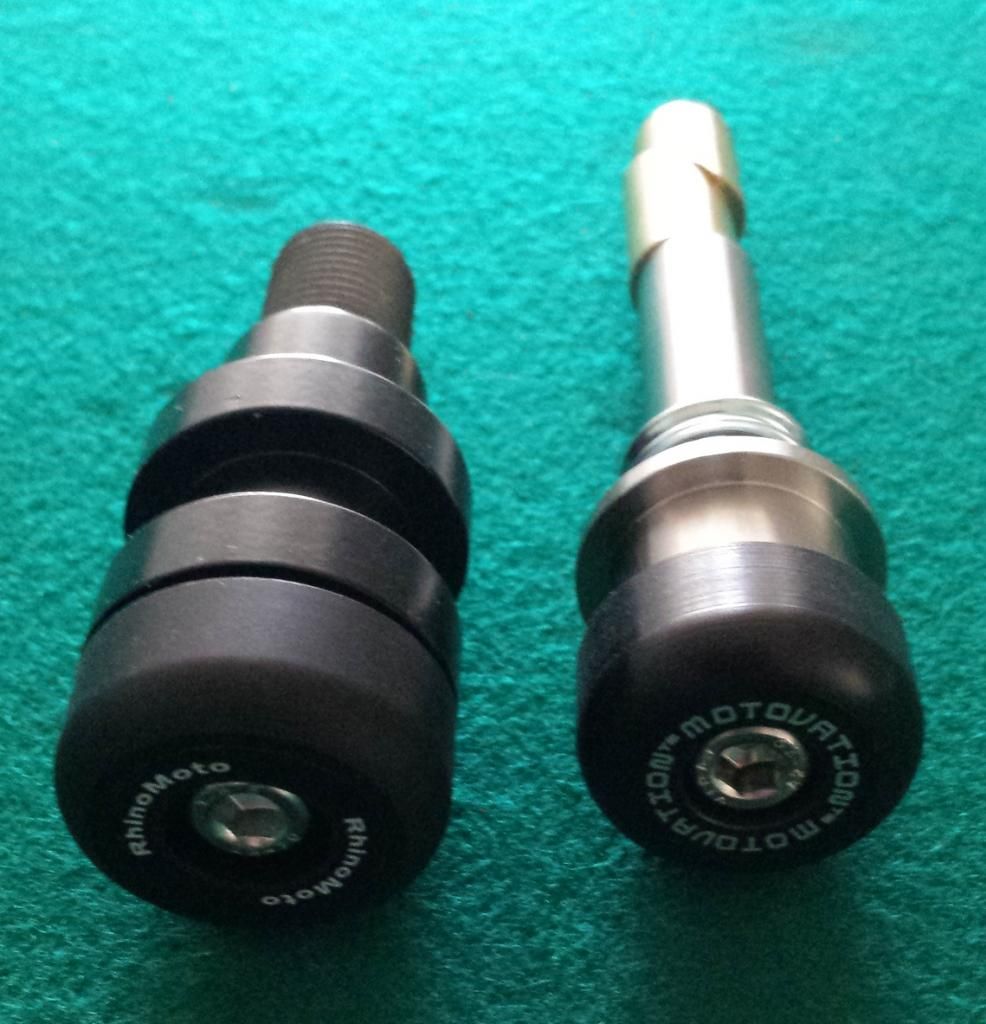 Compare #2 RhinoMoto vs Motivation:
Grip Comparison on Bike: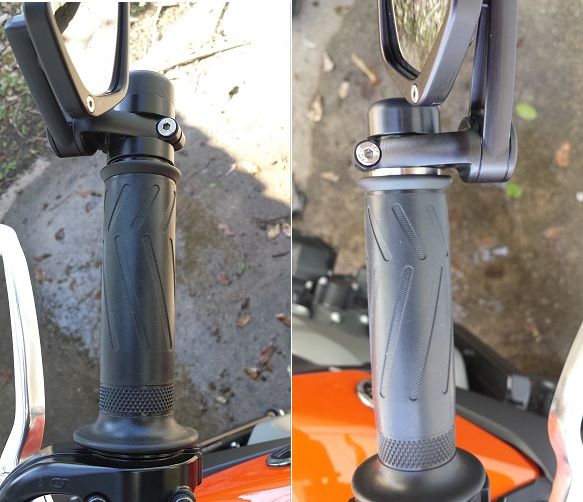 Mirror Rotation Comparison:
RhinoMoto's Mounted:
CRG Arrow Mirrors opened for mounting:
Finished Product w Arrow mirrors and RhinoMoto Bar End Weights/Sliders: