Discussion Starter
·
#1
·
Has anyone installed the basic Hyperpro rear shock - the Hyperpro 460: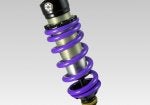 I've read posts by a Dutch owner on an MT-09 forum who said good things about it, and general reviews of Hyperpro on other bikes seem good as well. I asked a dealer in UK if they could get me one for when I'm back there next month, so I can bring back to Thailand. They can get one but have said "We would also recommend purchasing a Hydraulic Preload Adjuster with this shock, as the shock position makes it very hard to adjust without. This is an additional £200.00 [USD 320)]."
I'm not going to buy the shock if I also have to fork out for a remote preload adjuster. I suspect this is just a sales tactic but I'm not very familiar with Hyperpro so would like to know if anyone with more experience of them thinks this statement may be true. Also once I've got the preload set I'm not going to mucking about with it much - solo road use for me 99% of the time.
Thanks guys.