I never got around to posting this before i broke the bike. And i didn't take pics as i diod it, but I'm sure you'll get the gist of it...
I had an old acerbis LED vision headlight that was terrible as a headlight, but looked cool. Since i needed a screen so i took out the headlight part, and I started cutting
started with this.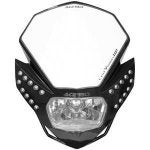 made some brackets from some pre made galvanised steel pre-bent bracket from bunnings, a super mega giant hardware store kinda deal. Cut to size, drilled some of the holes larger, and made 2 of the holes slotted so i could adjust the angle. Painted them black because i'm hard core.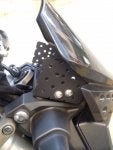 And basically cut the bottom/headlight part off the acerbis, and bolted it together. The acerbis is fork mounted, so the existing acerbis tabs were the right width with the brackets mounted through the 4 bolts on top of the headlight.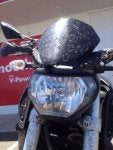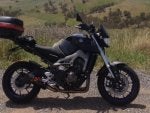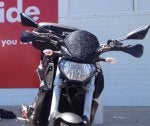 I used a real acerbis because it was in my garage, but you can get chinese copies dirt cheap on ebay - unless you have to ship them to Aus. Good news for you yanks. it also means that any fork mounted mask should work.
When i changed the angle, i could feel a massive difference to where the air would hit me. Think of it more as an air foil than a screen. I could aim it up so it hit me right in the visor/fore head if i wanted (i'm 6'4) but that was annoying, so i rotated it down a bit.
Since i was being lazy, for my new MT i just bought a puig sport clitoris. The acerbis custom jobby is at least as effective as the puig, but (IMHO) looks better, as it gives the MT more of a motard look.