Discussion Starter
·
#1
·
Just got the bike today after a couple of sittings on it and deciding that the ergo's would just work for my buggered knee. What a good choice I made.
Actually, it is a great bike. Coming from the 1250 bandit, which is a little torque monster all on it's own, I knew it would be dropping a bit on torque level (80 down to 55-60 ft-lbs) but honestly, the lighter weight does make up the difference. What a fun bike. No need to rev the heck out of it to make it go, which is exactly how I like to ride a bike - "Use the Torque Luke" (sorry for the star wars analogy, but it is appropriate)
For the first 20 miles of running in, I am deliberately lugging the engine to bed the rings. So pulling away at traffic lights, I just let the clutch out and let it pull hard from 2K up to 5 or 6K, then back off, shift up a few gears, and let it rest a little. It pulls magically and the cars are dots in the mirrors. At first there are the power pulses, which you can feel thru the whole bike (no doubt due to the light flywheel effect) then the intake noise starts to increase along with a nice growl from the exhaust, which sounds great from the seat, even on the stock exhaust.
Straight line handling is excellent and it does a very nice job of absorbing some even fairly rough patches of road. I am going to have to try it on the road to Tortilla flat, which is notoriously rough and bumpy. Should be able to test it's cornering ablity a bit there also. Phoenix has a lot of 6 lane intersections (with traffic lights) and making turns across them can be quite a bumpy experience due to the tracks the cars leave across them. This bike absorbs the bumps nicely.
The instrument panel is almost car like. 2 trip meters; Engine temperature; Air temperature; Average MPG. I just wish they would show the Odometer permanently and be able to cycle thru the other functions in a different location. With my blurry vision the rev counter is hard to see with a quick glance, but I don't think I really need to see it on this bike, with the torque coming in at low speed and the power band being so wide. In that respect it is much like my Bonneville (no rev counter) this bike just has so much more get up and go.
Lets see if I can link up some pics - (harder than I thought!!)
[URL=http://s38.photobucket.com/user/RichBinAZ/media/Yamaha%20FZ-09/IMG_0257.jpg.html]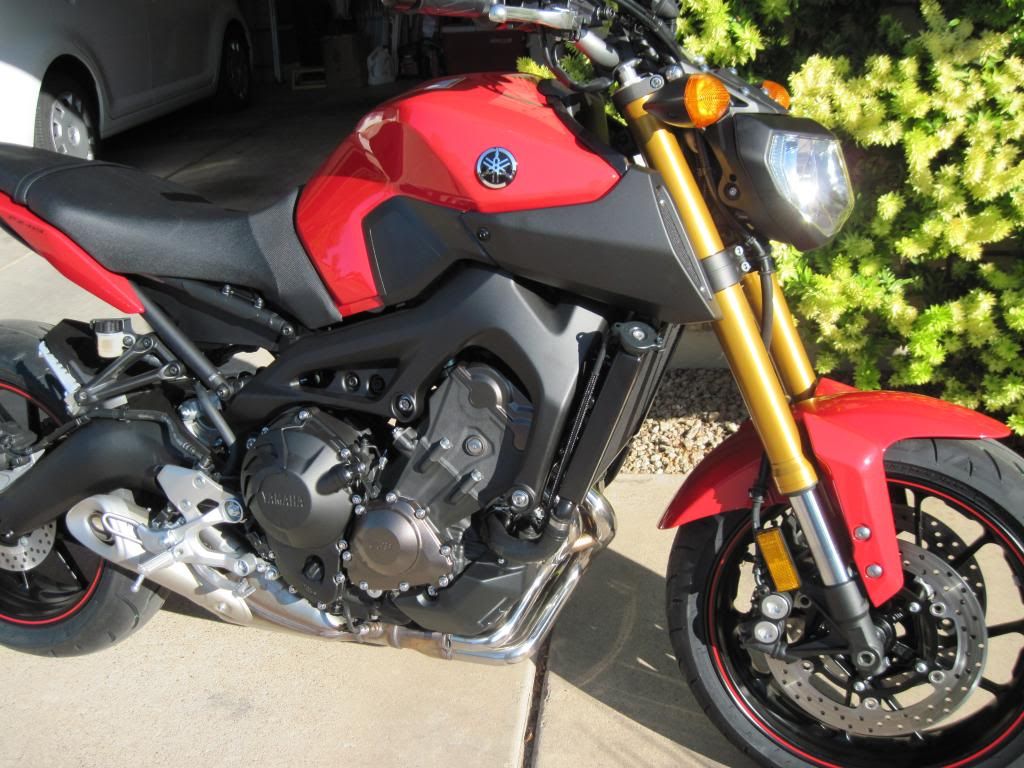 [/URL]
[URL=http://s38.photobucket.com/user/RichBinAZ/media/Yamaha%20FZ-09/IMG_0251.jpg.html]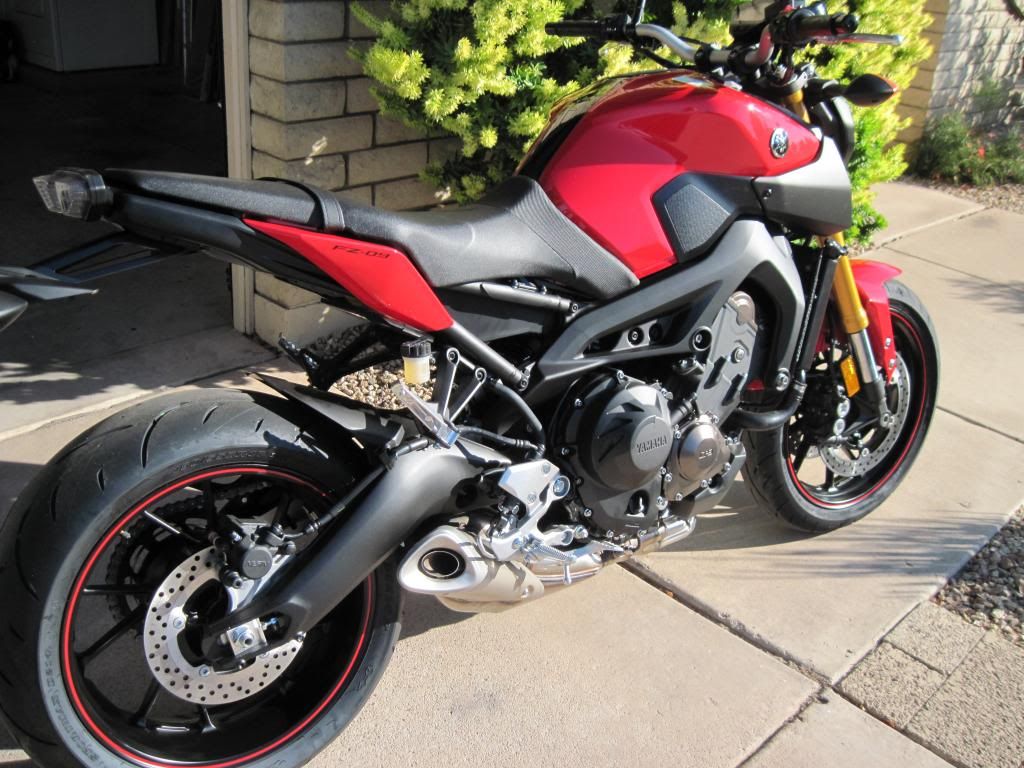 [/URL]
Very tidy under the tail
[URL=http://s38.photobucket.com/user/RichBinAZ/media/Yamaha%20FZ-09/IMG_0253.jpg.html]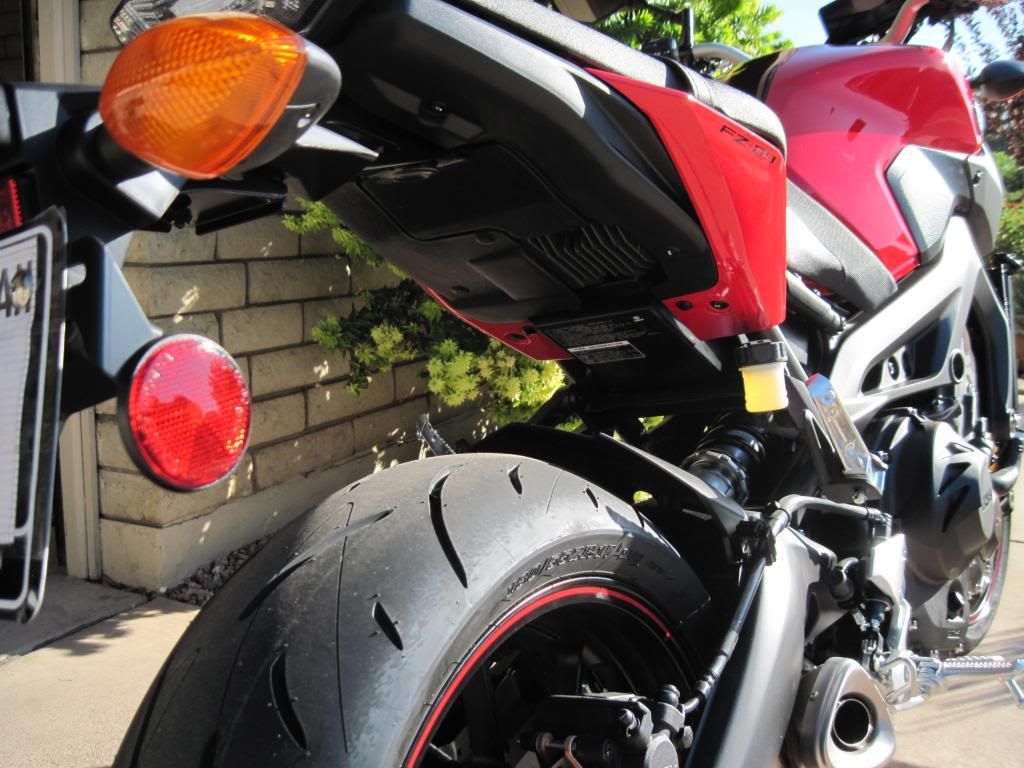 [/URL]
The lad's turn - let my son take it for a run around the block - he couldn't stop grinning when he got back
[URL=http://s38.photobucket.com/user/RichBinAZ/media/Yamaha%20FZ-09/IMG_0250.jpg.html]
[/URL]