Discussion Starter
·
#1
·
So I was riding 2 hrs ago and something didn't feel right, the bike didn't seem the usual. Approaching a red light I downshift from 3rd to 2nd to use engine brake, well the rear tire locks and I start sliding left and right. I didn't panic, and just held the clutch in and kept the bike upright. The rear tire caught on again and I came to a stop. I always downshift this way and I never had a problem, my rpms were around 4,900 when I downshifted to second gear. I kept riding and the bike didn't feel right so I rode back home. Upon inspection I found this: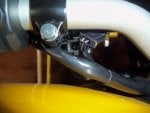 This is after I plugged it back in:
Anyone know what that is for? Could it be the reason my rear tire locked? Or was it rider error?
Thanks