Guys,
Just some history... I had an L4/L5 injury years ago that required surgery. I was headed to right foot paralysis so from that standpoint, it was a success as I gained mobility back. Downside was the internal scar tissue affects my comfort on a motorcycle. I knew going with the FZ-09 I would have issues, but I was not 100% sure how much. I am 5'11" with a taller torso as I have a 31" inseam. I sent my stocker to Eddie and then bought a 2nd as a spare unit.
Corbin
I went thru a 10 week ordeal with Corbin (custom order via phone) which they were incapable of fulfilling. The seat showed up as there stocked gunfighter not even in the black I requested. I sent it back for a full refund. I have never had an issue with Corbin before. I would say their ride-in service would be great. Ordering their stocked units would be great. Ordering a custom via Phone... don't bother. Initial test before I sent it back... Seat pushed me forward into the tank and was lower than the stocker. Very comfortable sitting but needed legroom vertically as well as the ability to move around. Excellent fit and finish though.
Stocker
As all know, seat is as hard as a rock. It places the rider in one position and will allow no movement. It sits low to the pegs and places you forward so inside of 5 mins, I am ready to dive off the bike. I would say the fit is below average as it does slide around when locked in place but just above average on finish. It is clean and simple.
Eddie Copeland
Eddie is a custom seat builder. He took my stocker and built it up to give me the legroom I asked for. He also customized it with flat black vinyl, Ostrich Tan vinyl and orange thread (I got an orange one...). Opening the box, it was a work of art. Excellent finish... he is an artist. I put it on the bike and it looks awesome. I went for a ride and and could go 20mins before the back pain crept in. I still needed to move forward and back which this doesn't allow. I called and Eddie was more than willing to make adjustments to the seat... for free. I almost did it but @ $75 round trip shipping, I figured I may have to send it back another time beyond to get it fine tuned. Then I decided to bite the bullet.
Street Rally
Ordered it from overseas. Pricey as all get-out. I knew they said it was hard but I knew I could move around on it. I received it within 2 weeks of ordering and popped it on the bike. Fit is awesome! Doesn't move around at all! Finish? Pretty good except for one thing... Where the top and sides meet towards the tank I can see white beneath. It is not the foam but the thin top piece all seat manufacturers use to give a smooth finish. Typically they use black so you do not see this. Just as hard as the stock unit. Advantage over the rest? I can now move anywhere on the seat and find a comfortable position. Granted, the Eddie seat is a comfy couch with the softer foam, but I need to move around to find that right spot for the 20 or so minutes before I have to move around again.
Which one works the best for me?
Street Rally... I figure I will just pay to get it recovered locally. Probably in the Eddie color scheme. I get too many compliments on it not to! Following are multiple pics of the Eddie, Stocker and Street Rally seats for comparison.
Stock seat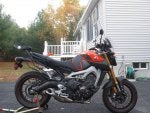 Street Rally
Eddie Copeland