Discussion Starter
•
#1
•
Hello everyone,
I have some parts from my 2019 mt-09 that i am getting rid of. The reason i am getting rid of these is because I no long have the bike due to being T-boned by a garbage truck in August of 2019. All these parts are located in Howell, MI. If you have any other questions feel free to shoot me a message on here and i will get back to you as soon as i possible can. Thanks!
1)
Stock seat
- $150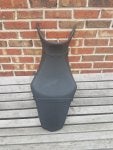 2)
OEM turn signals, Levers, mirrors, Rear tire light, tail light
- $100 for all or make me an offer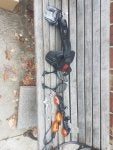 3)
Stock rim
- $200 OBO
This rim has a dent in it. I had it inspected the day that it happened (hit a pot hole on the freeway on our glorious Michigan roads). There is no fault with the rim, i actually rode on the rim for about 1500 miles before i got it replaced ($650) because i couldn't stand the cosmetic appearance of having a dented rim on a brand new bike. I was going to take it to a rim shop and get it fixed but like i said above I was t-boned by a garbage truck and broke my leg and totaled my bike. So i no longer have the bike.