Discussion Starter
·
#1
·
It's near the end of the tour, but Phoenix is one of the places where they do demo rides. The Lad and I went out yesterday and took a couple of rides. Here is their demo zone which was divided into 2 zones, one for sport bikes and the other for cruisers.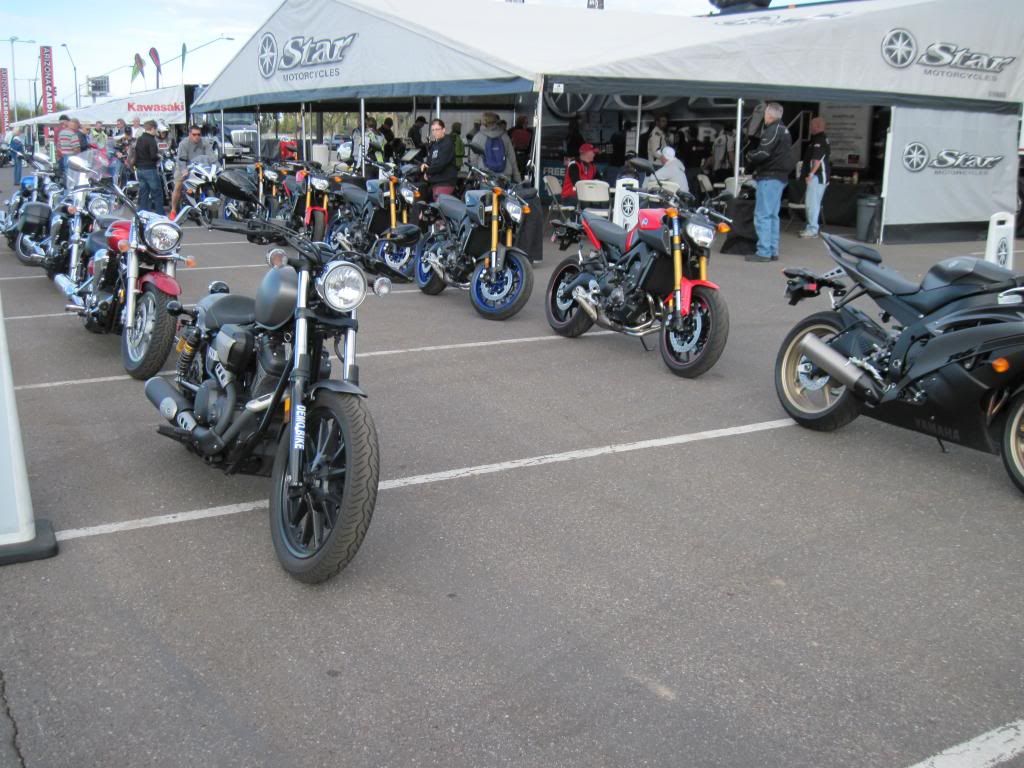 That's right, they had about 5 or 6 FZ-09's to ride in the sport group. It was bright, sunny and warm although the early morning rides may have seen some cloud cover. The lad wanted to try out the new version of his FZ6 as a comparison for his current ride and we got a 1pm sign-up time. The Vmax was gone for that time as were the other sport bikes so I chose an FZ-09 to ride around with him on.
The Demo is an escorted tour with Yamaha riders at the front middle and back - just in case the group gets split up. The ride lasted about 20 minutes and the leader told us that he would be doing fast starts so that we could get a feel for the bikes under acceleration. No wheelies, stoppies or drifties allowed or its walkies time. He picked a route that went through quite a few stop lights, and he did indeed do some fast starts. The left turns over the rippled 6 lane intersections were not handled well by the stock suspension at stock settings, almost did some drifting, but being able to rip it open was fun. The lad was on the FZ6 in front of me and he was able to keep up the pace easily. For some reason, I couldn't shake the V-Max behind me... I wonder why??We were both laughing at the end of the demo. Really well worth having Yamaha - promoted your bikes nicely.
Really made me glad I upgraded the suspension to the Penske shock and have 10W oil in the front fork!!!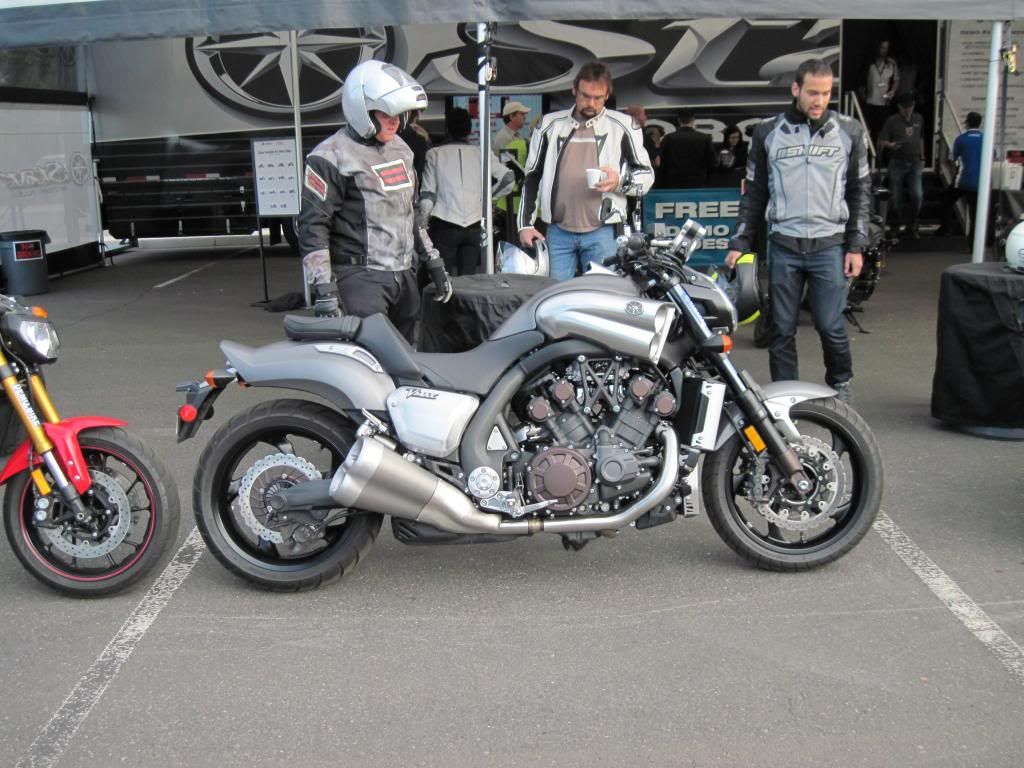 Here's a demo group (Kawasaki) going out for a burn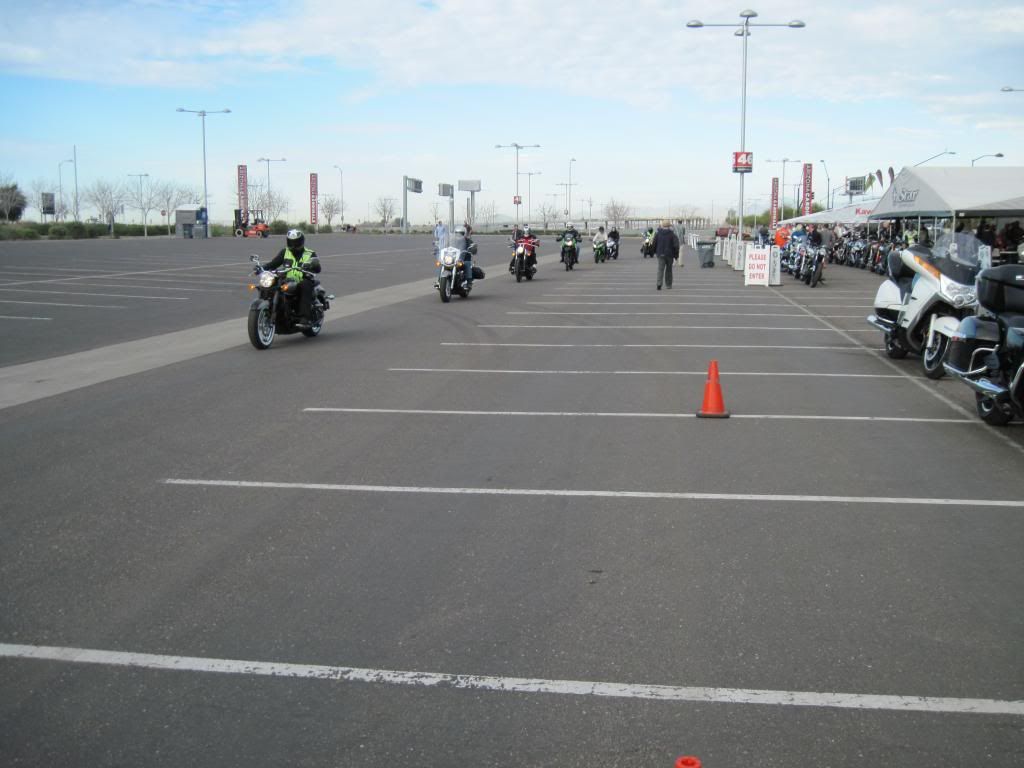 The demo groups included Harley, Indian, Victory, Yamaha and Kawasaki. Looks like Honda, Suzuki, Triumph need to up their game plan a bit if they want to sell bikes. The demo ride is a great way to do it and as we all know, not all dealers allow demo rides. Here's a few more pictures of the demo's available.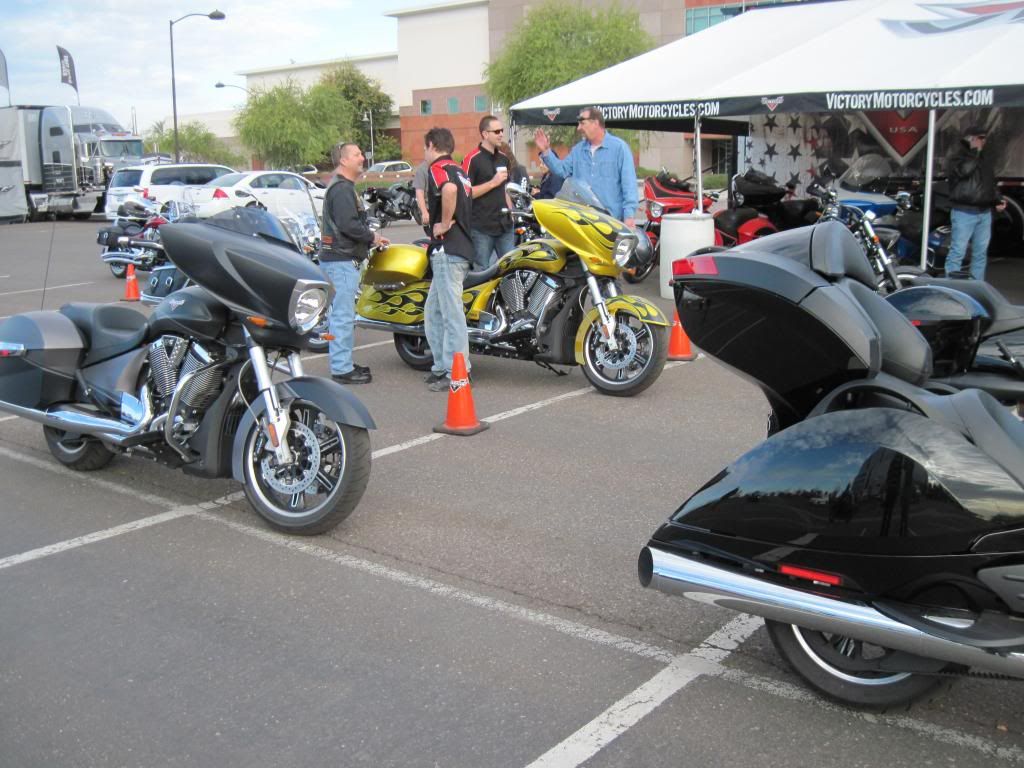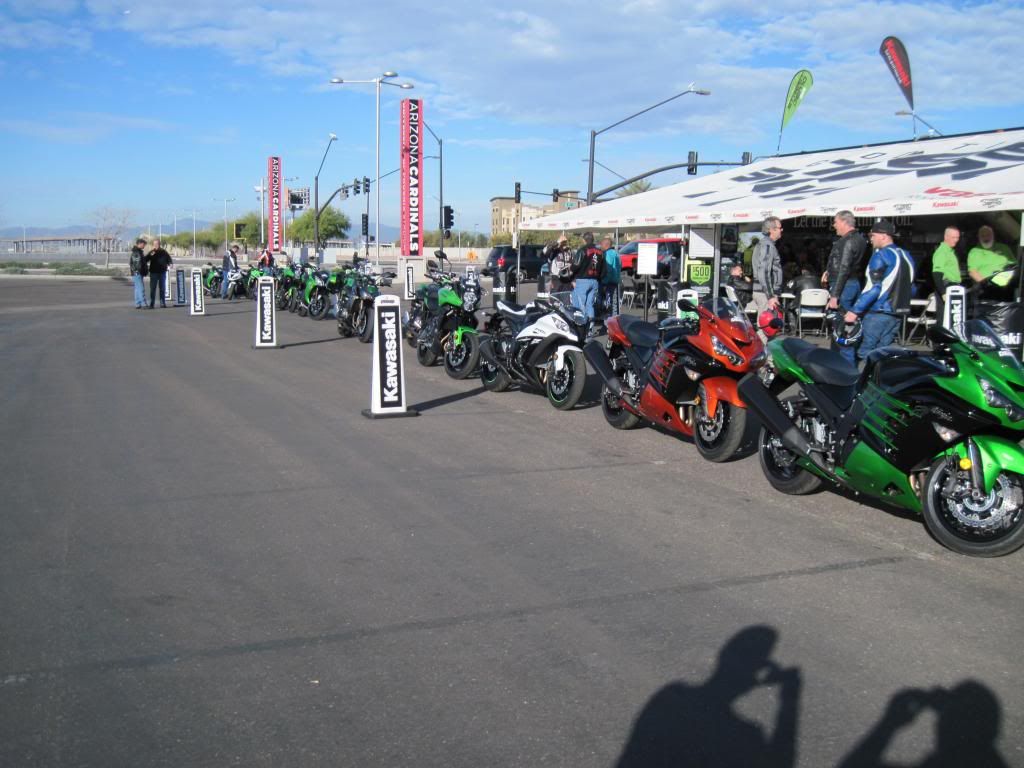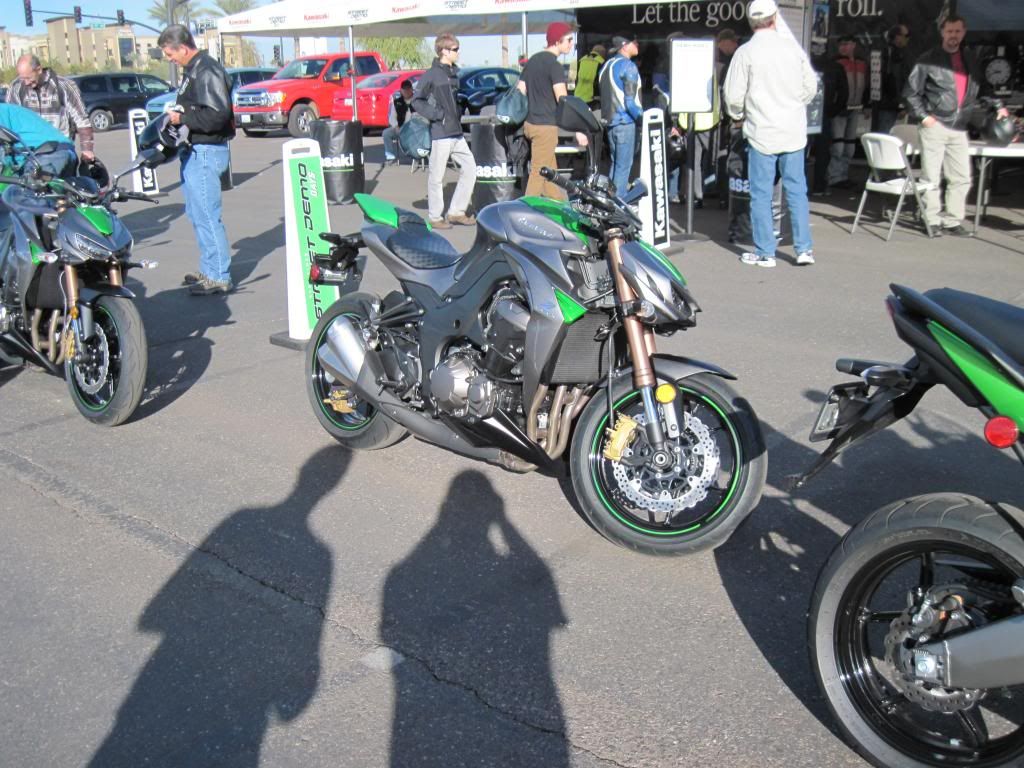 Wait a minute... who the heck is that old fart on the Tenere???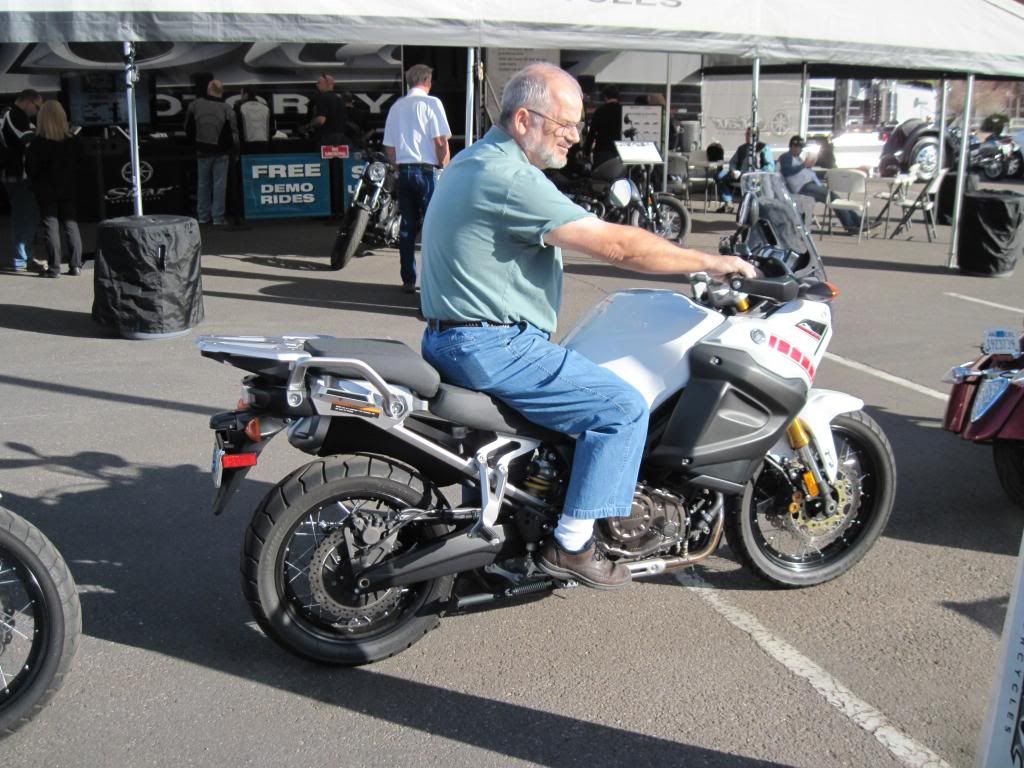 You guessed it - white socks and all.
One more picture from inside the show - they had a cutaway of the FZ-09 engine. I was a little surprised when I saw the Nylon gear driving the plastic impeller on the water pump. Lets hope they didn't get the impeller from Volkswagen. Their plastic impellers tend to split. The Bonneville has 2 nylon gears driving their oil pumps, so I guess I shouldn't worry so much.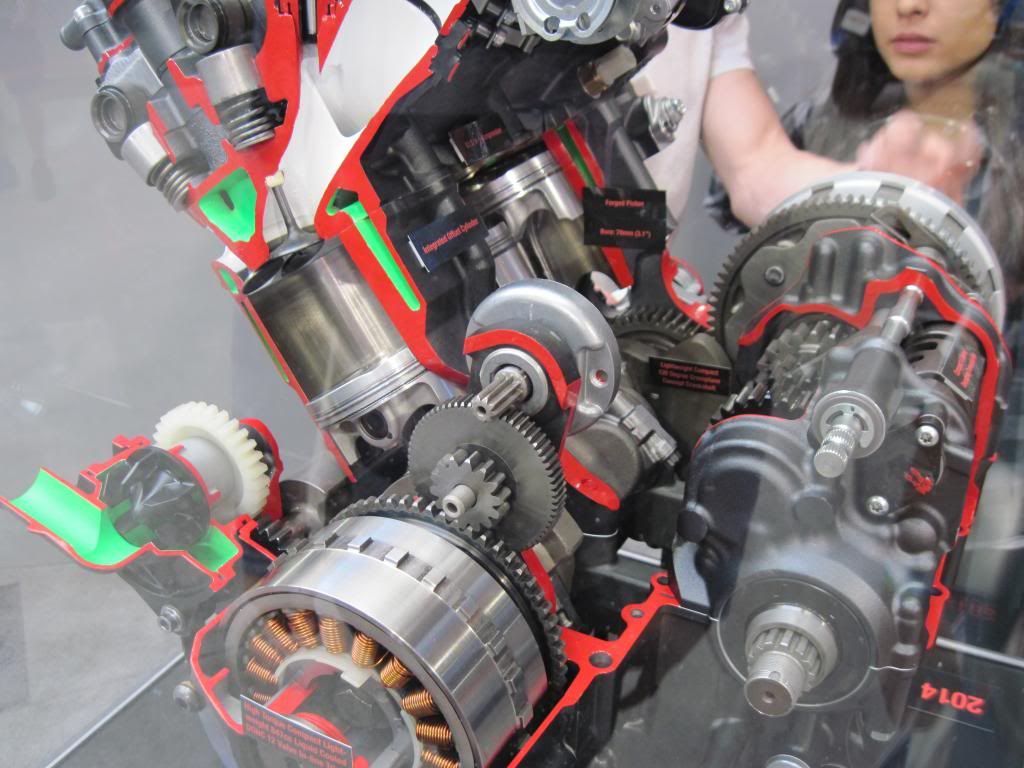 If you want to cruise thru all the pics, start here
Harley Demo Tent Photo by RichBinAZ | Photobucket