Hello!
I wanted to post here, because in this cool thread:
What bike are you coming from?
, I posted:
1986 Yamaha Fazer...

Still have it, yet the FZ-09... oh my.
And Fairbanksdmt replied:
Love the 86 Phaser! Just curious how does the 09 compare to it?
Well... I wanted to share some photos... and my experience.
I started riding about 3-4 months ago.
First bike was a 1986 Yamaha Fazer (or Phazer... I am not sure how it's spelled!).
I bought it locally via the local online classified ads... the guy was asking $1,200... we settled quickly on $1,000
Here she is!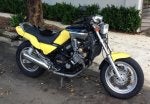 I am very happy with this bike... very happy.
I have had to do various fixes to her... yet the original owner was 100% upfront and honest about everything regarding her.
Anyway... going forward:
I wanted the FZ-09... and waited since mid-October (when I left the deposit), until 1st week of January to get it.
And boy what a difference.
Remember I am a n00b, so my experience and feedback is very limited and filtered... yet here it goes:
With the FZ-09, I have appreciated all the things that are wrong with my beloved Fazer.
The front forks are a mess (they are leaking... and I have the seals and oil... yet I have to get around to actually do it. Yet having a FZ-09 asking for miles.... it's kinda hard to stop riding and do this).
The forks' oil has spilled on to the front brake pads and discs... so stopping is... interesting.
The carburetors, I am going to send to a guy in the states for full rebuild / tuning (
OLDSKOOLCARBS FROM ROCK HILL, SC - Home
.. ask for rick
[email protected]
)
I cleaned them up the best I could... yet truth be told, at some point, a shitty mechanic worked on them and messed them up.
Bunch of stripped bolts, and two carburetor bodies that the jets wouldn't come out... so they drilled into them.
Apparently a bench drill was not used... as a hand-drill was considered good-enough.
Well, now the entire body is drilled and eaten up... and the jet in there, there is no way of pulling it out and cleaning/replacing it.
The rear shocks seem to be good... yet I don't have the experience to know.
The tires are good thread... yet kinda dry.
It could use new ones for that "stickiness" factor.
The paint:
Once everything is in order, I will paint it up!
Things I have done so far:
I opened the clutch master cylinder (hydraulic, not cable!) up... and cleaned it.
Same thing with the slave cylinder.
I have the rebuild kits (o-rings) for both... and will do that soon.
I also changed the ignition coils from the factory ones, as the previous owner pulled out the cables, replace half with MSD cables, half with some other type of cables (from a Russian car? Maybe Korean car?).
To fix the cables to the ignition coils, he used house-hold silicone bought probably at Home Depot.
Or maybe $2 was too much, and he just used what he had laying around.
I replaced the coils with Accel universal motorcycle units 140403 (two of those units).
Works awesome now.
=======
Well, anyway, I am going to kind of conclude.
I don't want to sell this Fazer.
I like this bike too much.
It was called the baby-VMAX... and it ain't no VMAX, yet I like it.
Here is the Fazer in one of my most enjoyable rides to date (I still don't have 500 motorcycle miles under my belt)
Comparison to the FZ-09?
Well... I am still a n00b, yet... Yamahas.
Love them.
The FZ-09 brakes harder... better.
Accelerates much better.
Smoother clutch... smoother transmission.
Puts a smile on my face every.single.time.
Fazer puts a smile on my face every.single.time.too.
Will write more later guys!!