As many of you know I went down a few weeks ago with no injuries
Well the good news is I'm Just fine
.
I've been doing some soul searching on if i really should be riding am motorcycle, and I have come to the conclusion that in fact YES I SHOULD. It was just one of those instances where you do something stupid.
So here is the progress so far without any new parts. I started with the radiator and got the cap bent so i can run the engine without it overheating. I still plan on replacing the whole unit, but it is on backorder. I also decided that replacing all the plastic would be a wasteful way to use funds, and a missed opportunity. I decided to paint and sand them.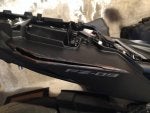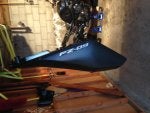 Black Satin was the closest to the graphite i could find.